Compound bows are the most advanced type of bow that mankind has developed. Because their design and structure is different than the more traditional recurve bows, compound bows are most accurate, much faster, and make it so you have to use less energy in order to draw the bow.
Frequently loved by bowhunters and target archers alike, the compound bow provides an enjoyable experience for all archers.
What is there not to love?
So if you're a complete beginner at archery, and you are feeling up to trying out a compound bow, then you've come to the right place!
Since there are so many different compound bows out there on the market, it can be confusing figuring out what compound bow is best for you. You might not understand a lot what goes into picking out a bow. What do all these weird words mean?
So, in order to help with that, I've put together a list of the 11 best compound bows for beginners. I've included bows for adults as well as youth, to give you more options.
The 11 best compound bows for beginners are…
Diamond Archery Infinite Edge
SAS Outrage
Sanlida Archery Dragon X8 RTH Compound Bow
Bear Authority Compound Bow
Bear Archery Cruzer
PSE Archery RTS Uprising Compound Bow
RAPTOR Compound Hunting Bow Kit
Diamond Archery Edge 320
Bowtech Diamond Archery Carbon Knockout
PSE Stinger Max RTS
Barnett Vortex Youth Compound Bow
And even if you don't really know anything, don't worry! We got you covered!
Let's get started!
Some Terms to Know
So before we start in with the list of bows, there are a few things that you should know and be aware of before you make your decision on which bow is right for you.
There are a few terms you should know. The most important two to know are draw weight and draw length.
Draw weight
Draw weight is the amount of force that is needed to pull a bowstring back at full draw, and is generally weighed in pounds.
Your draw weight can generally be calculated by your height and weight, or by the 30-second test, which you do by pulling back a bow for 30 seconds, and if it hurts, it's not the draw weight for you.
Draw length
Draw length essentially means the distance between the spot where you nock your arrow on the string and the grip of the bow.
Your draw length can be found by measuring the wingspan of your arms from fingertip to fingertip. That number is then subtracted by 15, and then divided by 2, and that's your draw length.
But really the best thing to do is to go to an archery pro shop where you will have trained professionals who know how to tailor a bow to each archer, and they can also help you find your appropriate draw weight and length.
You also want to keep in mind when you're looking for a compound bow what specifically you're going to be using it for.
While compound bows are incredibly popular among bowhunters, they are also popular among field archers.
You might want to ask yourself a couple of the following questions before making a decision as to what bow you want.
What am I going to be using this bow for? (target practice, bowhunting, etc.)
What's my budget for the bow?
How often will I be using it?
Am I going to need a left-handed bow?
How often do I intend to practice with it?
Do I have a goal of increasing my bow's draw weight?
What kind of features do I want with my bow?
Do I care about brands and high quality, or do I just want a bow to have for fun?
Am I willing to learn the proper shooting form?
These questions are important to think about so that you understand how much of an investment you want to make in the bow, what you want your bow to look like, what kind of features and quality you want in your bow, etc. To see how long compound bows usually last click here!
So while thinking about these things, let's get started with our list!
1. Diamond Archery Infinite Edge
Diamond Archery is a subsidiary of archery giant Bowtech Archery, one of the biggest archery manufacturers in the world, and Diamond Archery is one of their biggest successes as a more affordable bow brand while still not sacrificing quality products.
One of the best beginners bows that Diamond Archery has is the Infinite Edge found at Cabelas. This bow is known as a great option for those who are on the heavier end of the draw weight scale, as well as known for its great adjustability.
The draw weight is incredibly adjustable, making it perfect for teenagers who are still growing or for archers who are wanting to up their draw weights over time.
The draw weight is an impressive scale of 5 to 70 pounds, making it's very versatile for different types of archers, both big and small.
The draw length is also very adjustable, at 13 inches to 31 inches.
And since the bow is only 3.2 pounds, it makes it a very easy-to-carry bow, so as to prevent fatigue if practicing with it for long periods of time or hunting with it for long periods of time.
The price is also very affordable, around $350-400, which can be categorized as mid-range as for price level, so if you are interested in moving on to a different bow in the future, buying the Diamond Infinite Edge won't break your bank!
2. SAS Outrage
Southland Archery Supply (or SAS for short), is a smaller archery manufacturer that is probably on the lower end when it comes to bows and other equipment but also provides a lot of diversity among their products, selling everything from compound bows to longbows to crossbows.
And as for their runner up for beginner compound bows, the SAS Outrage is a compound bow that is probably the best compound bow for cheap.
The SAS Outrage is probably more for the adult bow section, with a draw weight ranging from 30 to 70 pounds.
The bow is highly adjustable and durable. Even with the wear and tear of hunting or from using over and over again, the SAS Rage is a very sturdy bow.
Not to mention that the bow is incredibly affordable, only around $160 to $180, which is very cheap when it comes to buying bows.
And on top of that, the SAS Outrage can shoot arrows at 270 FPS (feet per second), which adds to its durability, affordability, and adjustable model.
3. Sanlida Archery Dragon X8 RTH Compound Bow
The Sanlida Archery Dragon X8 RTH Compound Bow comes with a ready to hunt bow pro package including, a 5-pin sight, arrow rest and stabilizer, wrist sling, peep sight, quiver, release, arrow puller, a bow stand, compound bow case, and twelve arrows.
The draw weight has an impressively adaptable range of 0-70 pounds. Basically, babies could use this bow (just kidding, don't let babies use this bow).
And although the draw weight for this bow is very versatile and adaptable to archers of every kind, this bow is definitely not a toy. Designed with the future hunter in mind,
The draw length of the Sanlida Archery Dragon is 18 to 31 inches, and the overall weight of the bow is 3.8 pounds taken out of the box.
The price of the Quest Radical is in the mid-range for the price level, about $250 to $300 for a kit and bow included.
The IBO speed of this baby is also 310 FPS, which is pretty good. As the company says it's "A bow for all ages and skill levels."
4. Bear Authority Compound Bow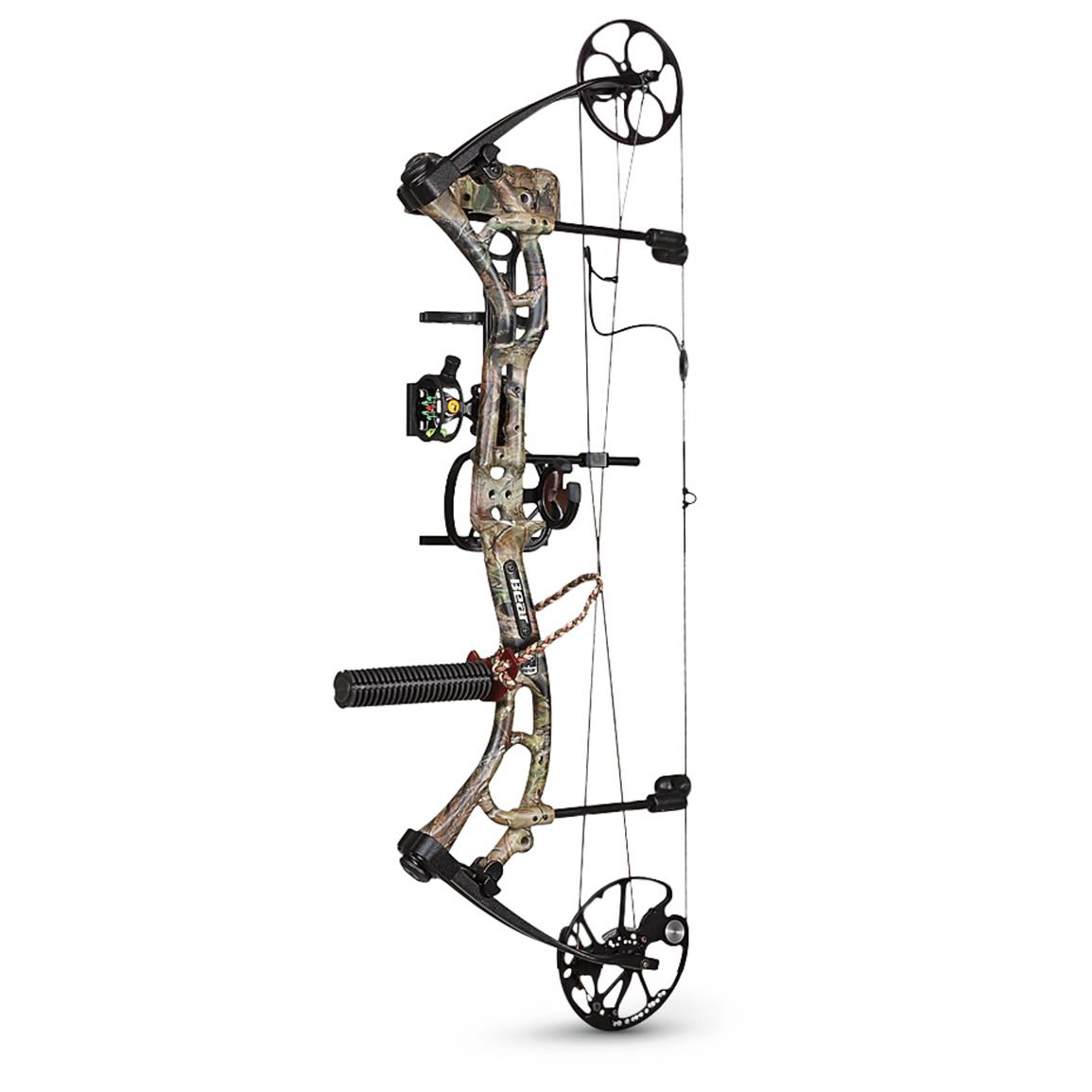 Bear Archery is another one of the biggest archery manufacturers out there, with a large and popular collection of youth bows that never seems to fail. Bear Archery is up in the big leagues with Bowtech and Hoyt Archery.
Although the Bear Authority Compound Bow isn't a youth bow, it still tends to be on the more lightweight and smaller end when it comes to bows.
Made specifically for hunters, although the bow is still about 4 pounds in total, it's on the lighter side for bowhunting bows, especially since the riser of the bow is aluminum.
It's a little more on the mid-range to the expensive side, around $500 for a bow kit.
The draw weight for the bow is definitely not for children, around 50 to 70 pounds, and has an adjustable draw length of 24.5 inches to 31.5 inches.
The bow is also incredibly fast, at 315 FPS, and since the brace height of the bow is only 6.75 inches, if you're hunting in more cramped spaces, then the smaller size that still packs the same amount of energy and power that its larger counterparts have is just for you.
5. Bear Archery Cruzer
Like I said, Bear Archery creates some of the best youth compound bows out there. The Bear Archery Cruzer is probably one of the best when it comes to youth compound bows.
The Bear Archery Cruzer has a highly adjustable model that grows with the archer, as the draw weight can change as the archers gets older. The draw weight range is a simple 5 pounds to 70 pounds.
This is the bow even babies could shoot. (Just kidding again, do not let babies shoot this bow.)
This bow is also really small, only 6 1/2″ for the brace height. It's about 3 pounds, and rather fast at 315 FPS. The draw length of the bow is 12″ to 30″, making it rather appropriate for younger archers.
The price is around the medium to low range, around $380 for the bow.
If you're looking to invest in a bow for your young archer that they'll be able to use for a longer period of time, you might consider the Bear Archery Cruzer.
6. PSE Archery RTS Uprising Compound Bow
A personal favorite of mine, Precision Shooting Equipment (or PSE for short) Archery is a company that specializes only in compound bows. And they're pretty good compound bows too.
PSE Archery currently holds the two fastest compound bows on the market, one at 360 FPS, and another at 370 FPS.
That's pretty fast.
So it's not a surprise that since they focus solely on compound bows that their products are pretty high quality.
And their RTS Uprising Compound Bow definitely is.
The RTS Uprising Compound Bow is most definitely not a toy and is made for adults who probably have at least a little bit of skill.
The bow itself weighs about 3.2 pounds, which can make it a little heavier of a bow for beginners, so remember to listen to what your body says and be aware of your personal fitness!
The draw length of the bow is 14 inches to 30 inches, and the draw weight for the bow ranges from 15 to 70 pounds.
However, as expected of PSE Archery, the RTS Uprising Compound Bow is wicked fast.
The IBO speed for the bow is 310 FPS, which is pretty dang fast.
Since this bow is rather heavy, proceed with caution, but you'll probably be pleasantly surprised at what you find. And if you're in it for the speed compound bows, you should definitely check the RTS Uprising out!
7. Diamond Archery Edge 320
As was mentioned before, Diamond Archery is a subsidiary of the company Bowtech Archery, and one of their most popular beginner bows is the Diamond Infinite Edge.
However, the second most popular beginners bow next to the Diamond Infinite Edge is the Diamond Edge 320.
Similar to its brother Infinite Edge, the Diamond Edge 320 is made for those archers who are older, bigger and have maybe a little more experience than the average beginning archer.
That's because the riser of the bow is made only of aluminum, which makes the bow a little heavier and a little more heavy duty than the average bow. The bow weighs about 3.6 pounds in total.
The draw length for this bow is about 15 to 31 inches, and the listed IBO speed for this bow is 320 FPS, which makes the bow pretty fast.
The price for the bow is about mid-range, about $430 to $470 for the bare bow.
Another huge plus for left-handed archers! Many times bows are designed primarily for right-handed archers only, but the Diamond Edge 320 is available both in right-handed and left-handed archers!
And as expected of the beginners' bows made by Diamond Archery, the Diamond Edge 320 is no exception to Diamond Archery's incredibly adjustable bows.
The draw weight for this incredible bow is from a mere 7 pounds to a whopping 70 pounds. How crazy is that??
This makes this bow a true investment because you can buy it when you're first starting out learning about archery and building your shooting muscles, you can adjust the draw weight of the bow as you grow and progressively get stronger!
This makes this bow even more appealing to those who start out in archery with the intention of upping their draw weight and getting stronger in order to achieve a goal, say becoming a bowhunter!
Because in many of the states in the US require that your bow's draw weight be at least 40 to 50 pounds, which is actually required in order to even kill anything, it might be good for you to consider before you make a purchase.
Buying a bow with a more forgiving range of draw weights might be a more economical option for you to choose if you have goals such as before mentioned.
8. RAPTOR Compound Hunting Bow Kit
RAPTOR has produced a really great beginner's compound hunting bow that can be used by both youth and adults!
The RAPTOR Compound Hunting Bow is usually bought as a kit, with all the starter essentials and accessories you might need to start your journey into the world of archery with!
The Bow Kit contains a 5-pin sight (which is basically something that helps you aim straight by being a visual guide), an arrow rest, a stabilizer, a 4-arrow capacity quiver, a string stop, an Allen wrench set, and a 2-inch paper target.
So basically you get a lot, except for arrows, which I think is kinda weird.
But back to the part that we all care the most about, the bow right?
The actual bow itself is really beginner friendly, so both youth and adults can use it without much of a problem.
The draw weight on the RAPTOR is also super adjustable, with a weight range of 30 to 70 pounds.
However, unlike a lot of other bows, where you need something called a bow press to change the draw weight for the bows, all you need is your handy set of Allen wrenches included with the kit, and you're good!
The draw length can also be adjusted, and it ranges from 24.5 inches to 31 inches. The total weight of the bow is 3.6 pounds, and the listed IBO speed for this bow is 315 FPS.
Because the bow kit also comes with a string stabilizer, many reviews say that the shots are much quieter than a normal compound bow, which is great if you want to hunt or just have a quieter bow in general!
Unfortunately, this bow kit only comes in a right-handed version, so left-handed archers will have to look elsewhere.
The price of the whole bow kit is also really cheap, only around $240!
This bow kit provides all of the tools you need to get started (except arrows of all things), while still maintaining a reasonable price and reasonable quality!
9. Bowtech Diamond Archery Carbon Knockout
Bowtech is arguably one of the largest bow manufacturing companies in the world. If you are a frequent archer, you have definitely have heard the name Bowtech.
And Bowtech has made great effort to make great quality bows for female archers as well, and one of the results of their efforts is the Bowtech Carbon Rose.
Before bows that were targeted towards female archers had limited options and weren't as high quality. (Some only came in pink)
Now, while you can use other bows just as fine, sometimes it can be harder to find bows that aren't youth bows but also address your size as well as weight.
So in efforts to address these issues, the Bowtech Diamond Archery Carbon Knockout Bow was created to be able to fit almost any female archer.
The draw weight of this bow comes in 40, 50, or 60 lbs. The draw length ranges from 22.5 inches to 27 inches. The speed is still very impressive, around 302 FPS. The bow itself is also incredibly light, around 3.2 pounds.
If you're feeling like connecting to your feminine side, the cams come with purple accents.
Since the brand Bowtech is more of high-end brand, and you're paying for both the brand and guaranteed high quality that comes with it, this bow is a little more expensive, around $750 for the bare bow.
The model has been designed to be more comfortable and able to fit into smaller hands, and it's smaller brace height of 7 inches makes it easy to use for any female archer.
10. PSE Stinger Max RTS
Another one of PSE's great bows, the PSE Stinger Max RTS (RTS stands for ready-to-shoot) is a fantastic beginner's bow. While I'm personally biased and think that all PSE bows should be at the top of any list talking about the best bows of anything, there were so many bows to choose from that I couldn't decide!
Most of PSE's bows are created solely for adult use, so this bow is definitely made for beginning adults who have a little more strength than the average Joe.
The draw weight for this bow is 70 pounds, and if an adjustment is needed for the draw weight, you can forget the bow press and adjust the bolts with a simple hex wrench!
The reason that the PSE Stinger Max RTS is such a great option for beginning archers is that it comes with all of the things that you need to get started and get shooting!
Since the bow is "ready to shoot," you get a lot of extra gadgets and accessories with the bow.
In the "ready to shoot" version, you will receive an accessory package.
And that's a pretty nice haul if you consider that the whole set is less than $400! Since PSE is such a high-quality brand, that price is very economical.
PSE is also very famous for their single cam technology, which is fairly unique in the world of compound bows. Double cam systems are often used because they add more power and stability to the bow and the shot it makes.
However, PSE developed the technology that allows the bow to still function just as well under a single cam, while still decreasing the amount of vibration and hand shock that comes from a shot.
And not to mention speed. PSE's compound bows are some of the fastest in the world, and the PSE Stinger Max has an IBO speed of 304 FPS, which is nothing to sneeze at.
The draw length of the bow is about 21.5 inches to 30 inches in total, and while it's a little on the heavier side, the Stinger Max is about 7.2 pounds in total weight.
The Stinger Max is also incredibly smooth and easy to draw, making it a perfect balance between comfort and power.
And it's great for hunters! The power that the Stinger has is more than enough for the biggest game, and is guaranteed to provide you with the best hunting experience you've ever had!
Not that I'm biased or anything.
11. Barnett Vortex Youth Compound Bow
Barnett Precision Crossbows, is as you guessed it, is a crossbow manufacturing company, that while they primarily focus on crossbows, also has a side section of youth bows and other archery accessories.
One of the best youth bows that Barnett has created is the Vortex Youth Compound Bow.
While not the best quality when it comes to bows on the market, the Vortex Youth Compound Bow still provides the necessary experience and practice that your young archer will need to get their journey into the archery world started.
The draw weight for the Vortex is 19 to 45 pounds, so it is definitely more suited for youth archers, and since it is a youth bow, it for sure is!
The draw length is recorded as being 21 inches to 27 inches, and because it is adjustable, you can simply use the Allen wrench set included with the bow!
In addition to the set of Allen wrenches that come included with your purchase, you'll receive three aluminum arrows.
Many people have talked about Barnett's arrows, which are manufactured in China and made of a flimsy aluminum. Many customers have complained of the arrows bending as soon as they hit hard targets, or even when they were pulled out of foam targets.
So it might be best if you throw away the arrows as soon as you get them.
In addition to the poor quality of the arrows, many customers have complained that the arrow rest breaks after a couple times of use and/or ruins any type of arrows that they might try using.
You might want to throw away the arrow rest and invest in a different arrow rest for your bow.
However, if you have any other manufacturing problems with the bow, then the company can help you! Your purchase of the Barnett Vortex Youth Compound Bow also includes with it a five-year warranty to help with any manufacturing issues or anything else that happens to your bow. (aside from dry-firing that is)
Unfortunately, the Barnett Vortex only comes in a right-handed version. No luck here lefties.
The price of the Barnett Vortex is incredibly cheap. The bow that comes along with the arrows and Allen wrench set are altogether about $150, which is a definite steal for the amount of great output you'll get from the bow itself.
So if you're just trying to gauge how interested your child/youth archer is into getting involved in archery without spending hundreds of dollars on a youth bow model, then the price of the Barnett Vortex is just the right amount for you!
Final Thoughts
Whew! That was a long list!
And that about wraps it up for my personal list of the 11 best compound bows on the market! There are still plenty other great bows out there that I'm sure beginners can definitely use, but these are some of the best to me.
Once you've chosen a bow, don't forget your other archery gear. Check out our lists of the top rangefinders, archery gloves, and archery targets.
I know it can be intimidating when you're first starting out, and especially when you're trying to make a decision on what kind of bow you want, but I promise that if you carefully think it out, and do plenty of research, you are guaranteed to buy a great bow!
You've got this! You can fulfill your craziest archery dreams! Also, check out this great guide if you want to use your bow for hunting.
Happy Shooting!