Buying a jet ski is a big decision to make and there are a lot of things to take into consideration when comparing the brands. I have compiled a thorough description of the differences between Yamaha Waverunner and Sea-Doo Watercraft. Take time to research which PWC is best for your family.
1. Seats
The cheaper the PWC, the less comfortable the seat is going to be. The cheapest jet skis are really best suited for shorter rides because the seats are so uncomfortable! While the more expensive ones have more padding in their seats.
I had one experience on a Yamaha EX and after I was on it for about 35 minutes my behind was going numb. The seat definitely felt like one of those uncomfortable hard plastic theater seats. I was on the back with two other people and I had a lot of fun, but when we took really sharp turns, it was not the most comfortable thing.
I would definitely recommend investing in a cushy waterproof seat cover if you are going to buy a cheaper jet ski. Your butt will thank me later 🙂
Yamaha
Yamaha Waverunners can fit 1-3 persons on board. There are more options with Yamaha when it comes to how many can be seated. The one person PWCs are only for standing up jet skis. These are not made anymore, but there are still used ones out there.
Sea-Doo
The cheaper Sea-Doo can hold 2-3 people, while the more expensive ones usually have 2 seats. The Sea-Doo seats are known for being slimmer for more movement. Just like the Yamaha one seaters, the Sea-Doo one seaters are standing up jet skis and are not as popular as they were in the '80s.
2. Price
The most popular category of a PWC is the recreation category. The recreation PWcs are the cheapest and the lightest ones. Families who have young children or are beginners with watercraft should get these recreational watercraft. I have been on a few recreational watercraft and they are super fun to ride; these are best for driving in circles and hopping wakes with.
The next most popular category is for those who are more into racing and going on longer and more comfortable rides; luxury. These are more expensive but are much more durable for more people and longer rides.
Yamaha
The cheapest Yamaha Waverunner is right around $7,000: Yamaha EX. The original EX is known to be better than Sea-Doo's original Spark because it has higher horsepower, comes with mirrors, has a bigger gas tank, and more storage than Sea-Doo's Spark.
One of Yamaha's more expensive jet skis is $16,200 and has a lot of comfortable features. There are options for everybody when it comes to Yamaha's WaveRunners.
Sea-Doo
Sea-Doo has the cheapest options out of all other brands. Their cheapest jet ski is $5,399: Sea-Doo Spark. Overall, Sea-Doo has the most accessories for the best price.
After the first Spark, came the 3up 90hp IBR Spark. This jet ski wins over the Yamaha EX Sport because it comes with more accessories for less money.
Sea-Doo has the nicer jet skis for cheaper compared to Yamaha.
2019 Prices for Yamaha and Sea-Doo jet skis from $5,399-$17,999:
3. Speed
Yamaha
The cheapest Yamaha can go up to 50 MPH. Because of the price, they have to have a smaller tank and engine, which means the EX won't be used for racing but for fun.
A more expensive Yamaha can easily hit 65 MPH, so if you are looking for speed you will need to pay more.
Sea-Doo
The cheapest Sea-Doo can also go up to 50 MPH.
If you are a racer, I would recommend the Sea-Doo RXP-X300 because it is specifically made for speeding. This watercraft can reach up to 70 MPH.
The fastest PWC out there is a Sea-Doo RXP-X 255. Equipped with a 255-horsepower engine, it can accelerate from 0 to 55 mph in just 2.9 seconds!
4. Comfort
Yamaha
The newer WaveRunner's have padded, 2-piece seats that are much more comfortable than the EX's seat. If you are looking to have more comfort on longer rides, pay attention to the details on the cushions.
Sea-Doo
Just like the EX, the Spark is very affordable and one reason is for the plastic seat. If you are looking for comfort I would recommend a GTR 230 because you will have optimal comfort.
5. Weight
In my experience, the heavier the watercraft the more expensive materials you will need to use for it. If you are taking it to the lake, you will need a big heavy truck or SUV to tow it, more people to get it safely in the water, and more cleaning supplies.
I personally like the lighter jet skis because they can be towed easily with a normal size car, they are easier to handle and less expensive. I get very stressed when I have a super expensive, large watercraft that I am in charge of.
Yamaha
The smallest Yamaha, the EX weighs 578 lbs. One of the newer ones: the FX Cruiser SVHO weighs 820 lbs. This just puts into perspective how much smaller the EX is going to be compared to the newer models.
Sea-Doo
The popular Spark weighs around 450 lbs. The newer version called the RXP-X300 weighs about 824 lbs.
Sea-Doo has the smallest watercraft out there, but it can also hold up to 2 people.
6. Color Options
If I was to purchase an expensive jet ski for myself, I would definitely want it to be in my favorite colors: black and red. The good news is that there is a wide variety of colors out there.
Yamaha
There are not a lot of color options when it comes to Yamaha. For example, the EX only comes in one color: white with torch red. The colors are not as flashy compared to other brands.
Sea-Doo
Sea-Doo is known for its bright color variations that are available on all of their jet skis. The color options for the Spark include black and orange, white and blue, and yellow and candy blue.
There are many more options out there when it comes to Sea-Doo, especially if you are looking for something colorful.
7. iBR vs. RIDE
I have not driven a Yamaha before, but I can honestly say that driving a Sea-Doo is very smooth and comfortable. Just like a car, you can brake, go into neutral and reverse. With RIDE on a Yamaha, you can only go forward and backward which, in my opinion, is not as practical.
Yamaha
Yamaha uses RIDE which is more like the old school manual reverse/ forward throttle. This makes emergency maneuvers harder.
A lot of boats use RIDE so if you are used to driving boats, you will catch on fast when driving a Yamaha.
You will need more practice when pulling up to a dock in a Yamaha to make sure you can slow down fast enough to not scratch up your jet ski.
Sea-doo
Sea-Doo uses iBR, which is like the automatic gas and brake setup. This includes brakes, forward, neutral, and reverse.
This makes it easier to navigate through the water, especially when backing up or heading towards a dock. Having a break and neutral makes it easier to stay at a certain slow speed when coming up to your trailer or dock.
8. Digital Key
I think that Sea-Doo's are very advanced in their technology and that their idea of a digital key is genius. You can easily keep it on you and know that it will only start your own watercraft. Just make sure you don't lose it…
Yamaha
Yamaha does not have digital keys, it just has a regular click in key.
Sea-Doo
Sea-Doo has its own specialized DESS key which is a digital key that only starts up your jet ski. This technical advance makes your whole experience with jet ski's more simple and smooth.
9. Storage
If you are like me, you will not need a lot of storage space on your jet ski because you will keep most of your stuff in your car, or your bag on the beach.
However, there are people who need to be prepared with their phone, sunscreen, extra life jackets, etc. Just a heads up; there is not a lot of storage at all on the Yamaha EX or the Sea-Doo Spark. The newer versions have much more space if you need it.
Yamaha
On the Yamaha EX, they have a dry storage area under the seat which is nice, but overall, there are 3 small storage compartments which are separated across the jet ski. Even though the compartments are awkwardly split up, there is more overall space than the Spark.
If you want a bigger jet ski than the EX, there will be more storage for you.
Sea-Doo
The Spark has a nice big storage compartment which means you can fit things like life jackets inside. The Spark does have a little less storage space compared to the EX.
The newer styles of the Spark have more space for storage, and there are specific jet skis that have more than enough storage on board if you need.
10. Mirrors
My favorite thing to do on a jet ski is to pull my nephews on a tube behind me. In order to pull anything or anyone behind you, you have to have standard mirrors that you can see well behind you with.
The one thing that is not great about the Sea-Doo Spark is that there are not standard mirrors attached, they need to be much bigger and stick out more so you can see behind you. You can order them and attach them onto your Spark, but the Yamaha EX has standard mirrors right when you buy it.
Yamaha
The Yamaha EX has standard mirrors on the higher-end model while the Spark does not. If you tow tubes or skiers behind you, the EX would be a better choice.
Sea-Doo
The mirrors on the Spark are not standard so you would have to buy some to attach. The newer ones have wide-angle mirrors which are great for towing.
11. Gas Tank Size
The average gas tank size holds about 16 gallons just for reference.
One of the worst things to happen when you are in the middle of having a blast on the water is seeing your tank needs to be filled up. You have to bring it back to shore and put more in which cuts the fun of your lake day even shorter.
Yamaha EX takes the win with tank size; it can hold a whole 5.3 more gallons than the Spark can. Take this into consideration when calculating time on the water and expenses as well.
If you do not even want to have to think about running out of gas, the newer jet skis can hold twice as much gas.
Yamaha
The EX has a bigger gas tank holding up to 13.2 gallons. This gives you more time on the water before you have to fuel up again.
The newer Yamaha models can hold close to 20 gallons of gas.
Sea-Doo
One of the reasons the Sea-Doo Spark is so lightweight is because the gas tank can only hold up to 7.9 gallons. This can be a hassle when you are out on the water.
The larger jet skis can hold up to around 20 gallons just like the newer Yamaha models.
12. Horsepower
I have been on jet skis that are not able to tow two grown men because there is not enough HP to jerk them around. If you are wanting to tow adults behind you on tubes or skis, I would definitely make sure that there is a lot of horsepower or else they will just be dragging behind you.
Yamaha
The EX has more horsepower than the Sea-Doo Spark, but it does not go any faster.
If you are looking for a lot of horsepowers you will have to find a newer model.
Sea-Doo
The Spark does not have quite as much horsepower as the Yamaha WaveRunner EX does, but it does go just as fast. Although it is a small jet ski, it has enough power to get going at a fast speed.
The newer models of Sea-Doo have more raw horsepower than the new Yamaha models.
13. Towing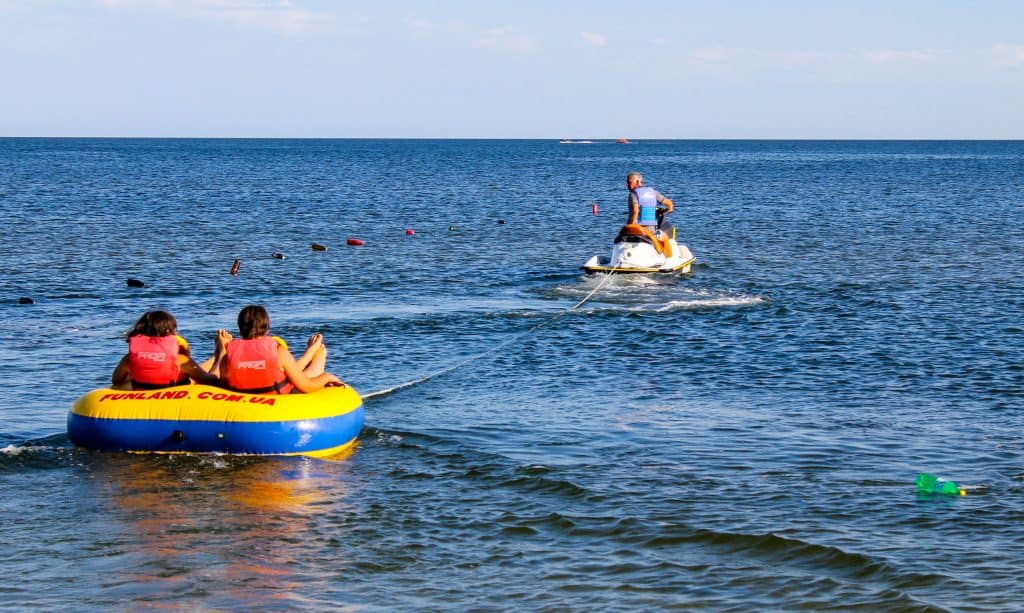 I know that Sea-Doo makes specific jet skis just for towing and that they are incredibly strong and durable. I also know that these jet skis can be anywhere from $10,000-$16,000 which is not in a lot of people's price range.
Personally, I think buying a cheaper jet ski and towing people one at a time is your best bet for having fun on the water and staying out of debt. Do not forget that just because the Spark and the EX are not the most powerful does not mean that they have no juice to them. I have had the most fun on a Sea-Doo Spark being pulled in a tube myself!
Yamaha
Because of the standard mirrors, Yamaha's are great for towing tubes or skiers behind.
You may need a larger car to tow your Yamaha EX behind. Yamaha has great options for towing people behind you.
Sea-Doo
Because the Sea-Doo spark is so lightweight, you do not need a huge car or truck to haul it.
When it comes to towing people behind your jet ski, you want to make sure you have large enough mirrors so that you can see well behind you.
Newer versions of the Sea-Doo Spark can pull heavier adults behind so if you are looking for a powerful pull, make sure you look into the horsepower of the jet ski.
14. Engine
Yes, people will tell you that the Yamaha EX does have a bigger engine than Sea-Doo's EX, but it is important to keep in mind the Spark and the EX have the same top speed.
As long as the jet ski you are buying has an engine that has been kept well lubricated and in good shape, you are set to have a fun ride.
Yamaha
The most affordable Yamaha EX jet ski does have a bigger engine than Sea-Doo's Spark. Yamaha is known for its incredibly powerful engines. the Yamaha EX has a 3-cylinder, 4-stroke TR-1 Yamaha Marine Engine that is claimed to be more fuel-efficient than the Spark.
The VX Limited does not have as big of an engine as the Sea-Doo GTI SE 155. Take a close look at the size of the jet skis you are looking at because if you want power, you will need to know about the engine.
Sea-Doo
The Rotax 900 ACE engine is claimed to be the most fuel-efficient engine on the market. It uses just 1.94 gallons of fuel per hour.
Even though the Yamaha EX has a larger engine than the Spark, Sea-Doo's Spark is lighter and goes just as fast as the EX.
The newer versions of the jet ski have bigger engines than the Yamaha which make a big difference when it comes to towing adults behind your jet ski.
15. Cooling
There is a debate between which cooling system is better: Open or Closed loop cooling. There are pros and cons to both and I will quickly address them.
The pros of the open loop cooling system is that there is less maintenance involved and no extra fluids needed to put in your jet ski. The cons of the open loop are that raw water (salt water) runs through your engine system which can cause corrosion and that debris can get stuck in your engine.
The pros to the closed loop cooling system which was created by Sea-Doo are that the water you are riding in never actually enters the watercraft, instead, there is hot antifreeze that is circled around the inside of what is called a ride plate, which takes the heat from the engine and releases it into the water. The cons are having to insert more fluids (the hot antifreeze) for the function of the cooling, and when winterizing you have to flush out the exhaust and intercooler.
There is no right or wrong answer, it is honestly up to your preference if you would want to worry about inserting antifreeze into your Sea-Doo, or rinsing the dirty water out your Yamaha every time.
In my opinion, I think that Sea-Doo made a smart move changing their PWC's to the closed loop cooling system because it keeps things clean and corrosion is no longer a problem.
Yamaha
Yamaha has an open loop cooling system which means that it does use the ocean and/or lake water to cool the engine down.
Sea-Doo
One very popular aspect of the Spark and other Sea-Doo jet skis are that they have closed-loop cooling systems. This means that it does not take in lake or ocean water to cool the engine down. Instead, it uses antifreeze.
16. Warranty
One of the most important things to me is the warranty that comes on a product. Honestly, if there isn't a good warranty offered, I won't buy it. For all of you who are accident prone like me, here is a little bit of info on the warranty policies for Sea-doo and Yamaha.

Yamaha

Yamaha offers a limited 1-year warranty for all customers purchasing a Waverunner for personal use. Any commercial buyers will be granted a 90 day warranty period.

This policy does cover any crafts used for racing. If you have not properly maintained your PWC you become excluded from the warranty. By adding any parts or having service provided by an unauthorized shop will also void the warranty.
All of those things are pretty common, still disappointing, especially in comparison to Sea-doo's warranty options!

Sea-doo

Sea-doo has a few options for warranties. With your purchase, you are offered a limited warranty in case of any manufacturer defects. Basically, this warranty will be offered anywhere from 30 days-1 years. This will be fine as long as you have no major accidents and your PWC has no issues.

On top of this limited warranty, you can choose an extended warranty lasting up to 3 years! This option is transferable if you decide to sell your PWC to another owner. There is no mileage or hour limit for this plan. No matter how many hours you ride, you will still have coverage! Under this plan, you only have to pay $50 dollars for any repair that is covered under this plan.

Sea-Doo's warranty is so good! I wish every dealer would offer such great options. Yes, it will cost extra, but in my eyes, the additional cost is totally worth it!! Sea-doo has earned some big brownie points for this one!
17. Stand-up vs. Sit-down

Yamaha

Stand up
Yamaha's stand up pwc is named the SuperJet. This line first hit the market in 1990 and has progressed since then. These are especially popular for adrenaline junkies and for professional competitions. Stand up style watercraft take a lot more skill than your run of the line sit down pwc.

Sit Down
Yamaha has an extensive range of sit down options… just like Sea-doo.

Sea-doo

Stand-up

Unfortunately, there are not any Sea-doo stand-up options. WHY? Really I don't know. I would assume that they are either trying to strengthen their sit-down game OR there is a plan in the works to blow everyone away. I guess we will have to see.

Sit-down

Just like Yamaha, there are a wide variety of sit-down options to choose from. The age-old question of which one is the best has no answer…. That is why it is age-old, and why it will continue to become ages older. It really depends on how much you want to spend, and what activities you are planning to do.

Make a list and determine exactly what you want out of a pwc. Compare the specs of each brand to find out which one best suits your needs. In the end, you'll have to decide for yourself.

Honestly- Personally I would go with the Sea-doo. Sometimes you can find them a little cheaper than the Yamaha, but they are known for durability. (Not to mention that awesome warranty) 🙂
18. Materials

Yamaha

The hull and deck of the Yamaha wave runners are made from fiberglass sheets covered in a polyester resin. These sheets are heated up and formed into their shape.

For weight, there is a clay-like filler added or a calcium carbonate filler added. The added weight ensures the weight to horsepower ratio is correct.
Filler foam is added to open spaces to provide buoyancy. Then the engine and other mechanical components are added in. After everything is assembled the pwc goes through a heat curing oven to ensure a completely watertight seal
They boast a 97+% pass rate for all pwc inspections!

Sea-doo

Sea-doo offers less insight on the material and structure of their pwc but their hull is made out of a "special" polytec material. The material is said to be very strong and increasingly light.
They have said that their engine has anti-corrosion components, a specialized cooling system and that their new watercraft have a new quick brake technology

The competition between the three main pwc brands has caused each one to increase their research and design in order to stay on top. In my opinion, the competition has ensured that the structural integrity is acceptable on either brand.
19. Maintenance
General maintenance will be required on your pwc no matter what. Period. You will have routine oil changes, spark plug replacement, maintenance from general wear and tear. Keep that in mind. Neither of these brands offers a 0 maintenance promise. That being said, maintenance costs between the two can vary.

Yamaha
To start off, the warranty for Yamaha was average. So anything that can go wrong, probably won't be covered there. That equals more out of pocket $$$$. At the same time, the warranty on their watercraft comes with the purchase. So you would be able to use any cash saved from not buying an extra coverage warranty.

Sea-doo

Sea-doo products will need maintenance just like any other brand. So, if you bought the extended warranty, you will potentially save quite a bit on any unexpected repairs!
If you want a little more info on typical pwc maintenance check out this article I wrote! Periodic Maintenance Required for Jet Skis.

20. New vs. Used?
There is no need to buy a brand new jet ski, I mean if you can, by all means, do so. For those of us who do not have $10,000 to blow, there are so many fantastic used jet ski options out there for you.
Before I go into what to look for when buying a used jet ski, I need to say that Sea-Doo makes a BRAND NEW jet ski that is only $5,399. It has a lot of great things about is and is perfect for a family wanting to have some playful times on the water.
If you are looking for something more powerful than a Sea-Doo Spark, or a Yamaha EX, here are some things you need to keep in mind when checking out a used jet ski for sale.
DO NOT buy a 2-stroke engine jet ski. These are terrible for the environment, and they break down much easier than a 4-stroke. It is not worth all of the maintenance you will need on it.
Do not base the use of the jet ski on hours. Just because a jet ski is close to 300 hours does not mean that it is about to die. Instead, buy a compression gauge and check each cylinder of the jet ski. If the PSI is over 100 and each cylinder is close to each other in compression it is in good shape. (There are people who have only gotten 50 hours on their jet ski and it has blown up because they have not taken care of it, so as long as a jet ski is babied it will be good on the water).
Take the jet ski in the water and test it. Even if the person or dealer says it is in good shape, take it in the water to test it before you give them a penny. If the jet ski starts up right away and goes over 7000 RPMs at full throttle it is good to buy.
Check every inch of the jet ski for damages. If there are some small tears in the seat where people sit, that is not a big deal. Here is what you should look out for; these are all deal breakers: Chunk(s) of seat missing, fiberglass damage (chunks missing) on the bottom of the jet ski, rust or paint flaking off, make sure all cords are new and not torn.
The last thing you need to do to be 100% sure that this jet ski is worth buying is taking it to a local dealer that you trust to check it out. They should know all of the little details about the certain model and can let you know if you overlooked something important.
21. Accessories
Sea-Doo's and Yamaha's nicest jet skis have a lot of amazing perks and I will share some of them.
Yamaha
Waterproof wireless Bluetooth speakers
GPS fish finder
Touchscreen easy access
Drive control
Beverage holder on the dash
Reboarding step
Footwell drains
Two-tone deck mats
Tow hook
Sea-Doo
Large swim platform
A narrow seat that puts you in a natural riding position
Removable rear seat for relaxing
Direct access front storage opens by raising the handlebar
Waterproof Bluetooth audio system
Phone box
Tilt steering cruise control
2 engine options
Closed loop cooling system
Boarding ladder
Don't forget to visit our Jet Skit Page!