The task of purchasing a jet ski can be intimidating. It can be hard to know where to start, as there are many brands and models to choose from. Just like with purchasing a car, it is important to do proper research to determine which is best for you.
The Kawasaki Jet Ski is one of the most recognizable names in the personal watercraft world, and there are good reasons for that.
In this article, I will go through and answer some of the common questions that people have when it comes to buying a jet ski.
History of the Jet Ski
While the term "jet ski" has come to be used when referring to any personal watercraft and even the very act of riding on one, it is important to note that the jet ski is actually a model of personal watercraft.
A personal watercraft, or PWC, is a jet-drive boat, less than 13 feet in length and ridden on instead of in. This definition comes from the United States Coast Guard.
Many manufacturers, such as Yamaha and Sea-Doo, produce their own models of personal watercraft. So, why is it that the Kawasaki Jet Ski takes so much attention?
The jet ski made by Kawasaki was the first commercially successful personal watercraft on the market. Some credit the jet ski with making the pwc market as large and successful as it is today. While Kawasaki did not invent the first ever pwc, they have certainly played a crucial role in the development and advancement of the technology.
Personal watercraft were first developed in the United Kingdom and Europe in the mid-1950s. The original models saw limited success, with only a few thousand models being exported throughout the world.
In the 1960s, Clayton Jacobson II of the United States began to design and develop his own version. The Canadian company Bombardier came up with their own design in the style that Mr. Jacobson had developed and began selling them in the late 60s. Again, these models saw limited success and were off the market before 1970.
Then, in 1972, Kawasaki developed and manufactured a new personal watercraft model. Kawasaki called it the Water Jet and then the Power Ski before ultimately deciding on the name Jet Ski.
When these machines hit the market, they enjoyed much greater success than their predecessors, and they paved the way for greater public interest and more companies becoming involved in the personal watercraft world.
The first models of the jet ski, the WSAA, and WSAB, were models of the stand-up variety. These are made to be ridden by one person at a time while standing. While not as popular today, they are still generally sought after by people interested in racing or focusing on tricks.
Throughout the 70s and into the 80s, jet skis were becoming more and more popular, and other manufacturers like Yamaha began to produce their own models. In 1986, Kawasaki introduced the 650 X2 model, which was the first sit down model that they produced.
This began a shift in popularity, and now you are much more likely to see sit down models rather than stand up models. This is probably due to the fact that sit down models are easier to learn and are less tiring to use.
Kawasaki continues to produce jet skis to this day, and is one of only two companies(the other being Yamaha) that still produces and sells stand up models.
Strengths
The Kawasaki jet skis are known for many things, including speed. Take the Kawasaki STX-15F for example. It has a top speed of around 70 miles per hour under the right conditions, which is toward the top for stock PWC models. It accelerates from 0 to 30 miles per hour in about 2 seconds.
As a testament to the speed that jet skis are capable of achieving, many professionals use jet skis in high-level races and place near the top.
An example of a more powerful model is the jet ski Ultra 310LX SE. With a supercharged and intercooled, 4-stroke, DOHC, four valves per cylinder, inline 4-cylinder engine and 1,498cc of displacement, its horsepower level is over 300.
This model offers more than speed, however. With a seating capacity of 3 riders, it can be a good choice for people who want to take guests out on the water or people with families.
Jet skis also have seating that is lower than many other brands. Thanks to this low seat design, riders will feel that the jet ski is more responsive and maneuvering will feel more natural, even for a beginner. However, the lower seat may be slightly uncomfortable for taller riders depending on where they sit.
Another advantage to the seat is its large size. There are many personal watercraft that are advertised as being able to fit 3 people, but it ends up being a pretty tight fit. The seat on the jet ski STX-15F has no problem seating 3 people comfortably, and the same can be said of other jet ski models as well.
The jet skis are also very stable. When sitting on the watercraft, you will not feel wobbly or like you are going to tip to one side or the other. When you are driving, the machine will maintain a straight course as long as you are steady with the handlebars.
Speaking of the handlebars, the Kawasaki jet ski models of late have been equipped with Kawasaki Smart Steering technology. Since personal watercraft use their jet propulsion systems for steering, it can be difficult to control them while the throttle is not engaged.
The Kawasaki Smart Steering System helps to keep the jet skis stable when the throttle is released at high speeds, meaning that the chance of the rider losing control or being thrown off is reduced.
If speed is your thing, then the Kawasaki jet ski may be the way to go. They are the leader of the personal watercraft manufacturers when it comes to horsepower and top speed.
If you are interested in purchasing a jet ski for towing activities like water skiing, wakeboarding, or tubing, then jets skis by Kawasaki are a solid choice as well.
The general rule when it comes to towing with a personal watercraft is that the machine should have at least 110 horsepower. Thanks to their powerful engines, these jet skis easily make that mark.
The large seats also come in handy because when towing, it is good practice to have at least one extra rider sitting backwards to watch the person or persons being towed behind the jet ski.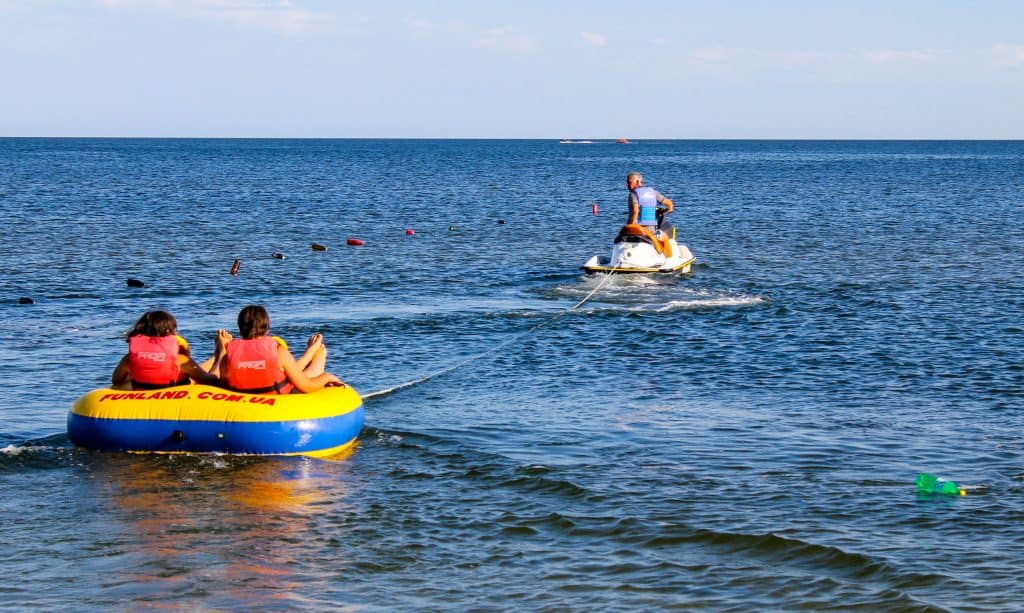 Weaknesses
Kawasaki jet skis have a reputation for being reliable, but are probably not quite the most reliable. Something to keep in mind is that if you want a souped-up, supercharged engine, it will probably require more maintenance.
Of course, if you do not feel like dealing with that, you can always just buy a simpler model of the jet ski. But generally speaking, jet skis made by Kawasaki tend to not last quite as long as models made by Yamaha.
Another downside of jet skis is that some of the models may include limited features, especially in the base models.
The differences between features offered on the jet ski STX-15F which was mentioned above and the higher-end model the jet ski Jet Ski Ultra 310LX are many.
The Ultra 310LX offers the following features:
Kawasaki Smart Steering System
5-position adjustable handlebar
JETSOUND® Audio System
GPS mount
LXury Seat with heat-resistant material
The STX-15F only has the following features listed:
Powerful acceleration
Responsive hull design
Smart Learning Operation (SLO)
Large rear deck
One might be tempted to think that these figures mean that the STX is not as good of a purchase as the Ultra 310LX. This is not necessarily true. A jet ski is largely what you make of it. You can still drive at high speeds or spend the day fishing on an STX, you'll just have to bring your own speaker if you want to listen to music.
Another potential downside to the Kawasaki jet ski is the price. The Kawasaki jet skis do have the highest prices of any of the main manufacturers on the market. The most basic Sea-Doo model costs under $6,000, while the most basic Kawasaki is closer to $10,000.
This doesn't automatically make the price a deal breaker. We'll look more into the prices of these jet skis a little further down.
Dependability
The success of the jet ski starting in the 70s over its predecessors in the 50s and 60s can probably be attributed at least in part to its manufacturer, the Kawasaki Heavy Industries Motorcycle and Engine company. Kawasaki Heavy Industries Motorcycle and Engine is a division of Kawasaki Heavy Industries.
Kawasaki Heavy Industries is a Japanese company headquartered in Tokyo. This company produces everything from railway cars to aerospace and defense equipment. Like many Japanese motor companies, Kawasaki enjoys a well-earned, good reputation.
Kawasaki Heavy Industries has a long and rich history in business. It was founded in October of 1896, making it over 120 years old.
Some of the company's more notable work includes being involved in the development and production of the Boeing 767, Boeing 777, and Boeing 787 models, and being involved in the development and design of high-speed trains such as Japan's Shinkansen.
Kawasaki has also been involved in space robotics projects such as the Japanese Experiment Module for the International Space Station, the HOPE-X experimental orbiting plane, and the docking mechanism for the ETS-VII.
With such an impressive history and resume, it is easy to see where Kawasaki's reputation comes from. For over 120 years they have been trusted with making some very large, very important machinery. It makes sense that the smaller things that they produce would live up to the same standards.
If you put the key into a Kawasaki jet ski, you can be assured that it will start up.
Kawasaki began the development of motorcycles back in 1949. Mass production of their first motorcycle began a few years later in 1953. Kawasaki has produced quality motorcycles since then. They have become popular for racing and recreation alike.
The engines of jet skis are similar to those of the motorcycles. Personal watercraft are even called "boatercycles" sometimes. Over decades of developing their motorcycle engines and then specifically the jet ski engines, Kawasaki has created an engine that is about as dependable as an engine can be.
Longevity
As mentioned above, there are other personal watercraft models which may end up lasting a little longer than jet skis made by Kawasaki, but even so, jet skis are very reliable. They typically last hundreds of hours. Hours ridden is the unit used to measure the life of all personal watercraft.
The way a jet ski is determined to be low or high hour is by the number of hours it has per year. Typically, if a jet ski has more than 30 hours per year of its life, it is considered a high hour jet ski.
For example, if a jet ski is 2 years old and has 80 hours on it, then it has 40 hours per year and would be considered high hour. If another jet ski has the same 80 total hours but is 4 years old, then it has 20 hours per year and would still be considered a low hour jet ski.
Basically, how long a machine lasts depends greatly on the operator. As long as you keep the hours used per year down at a more conservative amount and perform regular maintenance when it is needed and keep it clean, a Kawasaki jet ski will have a plenty long life, with many people claiming to have jet skis with 600 to 900 hours that still run like new.
When searching for older used models for sale online, you can find listings for models from the 90s and even as far back as the 80s. While they might not look or be as fancy or as fast as the newer models, it is entirely possible that they still run just fine. Just like with cars, proper maintenance can go a long way.
Extra Features
A few sections up we looked a little bit at the features that jet skis can offer. While the availability of these features does vary from model to model, for now we will just look a little more into all of the features offered without focusing on the models that do or do not offer them.
Powerful Acceleration- Kawasaki jet skis are known for their fast and powerful engines. They are able to accelerate from 0 to 30 miles per hour in 2 seconds.

Responsive hull design- The hulls of jet skis are designed to maximize maneuverability. The lower seat discussed earlier also plays a part in this.

Smart Learning Operation (SLO)- When this mode is engaged, the top speed of the jet ski is reduced by 30 percent. It is a good way for beginners to become familiar with the way the jet ski handles. After a rider is used to it, they can try riding at higher speeds if they desire.

Large rear deck- A large rear deck makes boarding the jet ski much easier, especially from the water. This is ideal for if a rider is thrown off or for people who are towing and therefore might be on and off the jet ski frequently.

Kawasaki Smart Steering system- According to Kawasaki, the Kawasaki Smart Steering System simultaneously monitors the steering input and engine speed.

Class- leading fuel capacity- With a tank that holds 20.6 gallons of gas, you will be able to spend more time on the water and have to return to refuel fewer times.

Class-leading storage capacity- With 56 gallons of fully sealed storage capacity, you will be able to bring just about whatever you need or want out on the water with you.

5 position adjustable handlebar- Being able to adjust the handlebars helps to accommodate both different riding styles and different sizes of riders.

Sport performance seat design- This seat has a special textured "gripper-style" seat cover material to help maintain ride position in any condition.

18 position adjustable handlebar- Some models offer an adjust able handlebar with even more versatility.

JETSOUND audio system- Some models have built in audio systems that make it easy to listen to whatever you want while you ride.

LXury Seat with heat-resistant material- Some models come equipped with a seat that is made with a special material that does not heat up as much as regular seats. This goes a long way, as the sun can really heat up seats, especially ones that are a darker color.

With all of these amazing features, it is easy to see why Kawasaki jet skis have a reputation of being top performers as well as comfortable and luxurious.
Something to keep in mind, though, is that not every model comes equipped with every feature listed here. When doing research for a potential purchase, it is important to check to see what features are included with the model you are interested in. This helps in the decision making process.
Affordability
So, what kind of price tag can you expect? The fact that jet skis are such quality machines with such a good reputation means that they are going to have a cost to match. But even so, there is a jet ski to fit anyone's personal price preference.
New jet skis will be the most expensive. Also, the more features you decide you want added on, the more the price will go up.
To get an idea of the prices for new models, we can look to Kawasaki's website.
The 2019 Jet Ski STX-15F, which is the most basic model, has an msrp of $9,699. The next step up is the Jet Ski Ultra LX, which has an msrp of $11,999. Finally, their top of the line model, the Jet Ski Ultra 310X has an msrp starting at$15,299. There are variations of the Ultra 310 model, and the most expensive has an msrp of just under $18,000.
All of the prices above are for sit down models. As mentioned earlier in the article, Kawasaki still produces models of the stand-up variety as well. The 2019 Jet Ski SX-R is available at an msrp of $9,999.
These prices might seem high to some people, but it is important to remember that jet skis are high-performance vehicles. They will be in the same price range as motorcycles or some cars. Luckily, that means that the same tactics can be used when shopping for a jet ski as when shopping for any type of vehicle.
If you want to purchase the newest model available at a discounted price, consider waiting for a deal. Many dealerships run seasonal promotions throughout the year which may save you a few hundred dollars at least.
If you want a new jet ski but do not care as much about the year of the model, you can buy a model from the previous year. Right now, so many dealerships have leftover models from 2018 that they are offering even greater discounts. Just ask a dealer to see if they still have any in stock. You can save even more money this way.
If you cannot afford to pay for a jet ski all at once with cash, consider financing one. Some banks and credit unions offer special loans specifically for personal watercraft. Many dealerships will offer in-house financing as well.
Alternatively, if having the newest, shiniest jet ski is not a priority as much as just owning one, there is always the option to buy used jet skis.
If you decide to go this route, the safest bet would be to check with and purchase from a dealership. Like car dealerships, power sport vehicle dealers will certify all of their pre-owned inventory. This means that you can have peace of mind that everything on the machine will be in working order.
However, it also means that you will not be getting a jet ski at the cheapest possible price.
To find the best deal possible, you would likely need to buy directly from another owner. The downside to this is that there are no guarantees, as it has probably not been inspected and certified by an expert. But, if you know what to look for, you can perform your own check.
Some of the biggest things to check for are holes or cracks in the hull, signs of wear and tear on oil, fuel, and water hoses in the engine compartment, and the steering control to make sure that the jet nozzle moves properly.
There are other things that you can visually check quickly and with ease, such as if the seat cover is damaged or cracking and if the bumpers are damaged.
These checks can be performed in just a few minutes, but can save a lot of trouble and money in the future. If the owner will let you, it is a good idea to take it for a test drive as well.
It is important to try and only buy a jet ski that has been taken care of well by all of its previous owners.
Looking online, there are various postings by both dealers and private sellers. One I found is a 2012 Jet Ski STX-15F with less than 100 hours and for less than $6,000. There are many more deals out there, you just have to find them.
Are They Worth It?
So, does the price match the value? The bottom line is that jet skis are high-quality machines built by a company that has been reputable and trusted for decades.
The Kawasaki Jet Skis may be somewhat pricey when compared to personal watercraft made by other companies, but they live up to the name and price tag.
It can be said that Kawasaki made the sport what it is today with the strides that they have made in the field. It makes sense that they try their best to continue to keep the name and legacy of the jet ski alive through new innovations and accomplishments.
So whether you have dreams of getting into racing or you just want to get on the water for a day of fast fun, if treated properly and cared for carefully, a jet ski made by Kawasaki will last for years whether it is the most basic model or the most luxurious model with all the bells and whistles.