Jet skis are a great way to spend time on the water in the summertime and create some memorable times with family and friends. In order to have a great time, you will need to know the laws for riding a jet ski according to the state you reside in. Rules and regulations can vary from state to state and it is a need-to-know in order to be able to enjoy your time on the water.
Anyone between the ages of 12 and 15 cannot operate a vessel that is 16 feet or longer in length. They can operate a 16-foot vessel if they have passed the boating education course that is approved by the DNR or if they are accompanied by someone 18 years of age or older.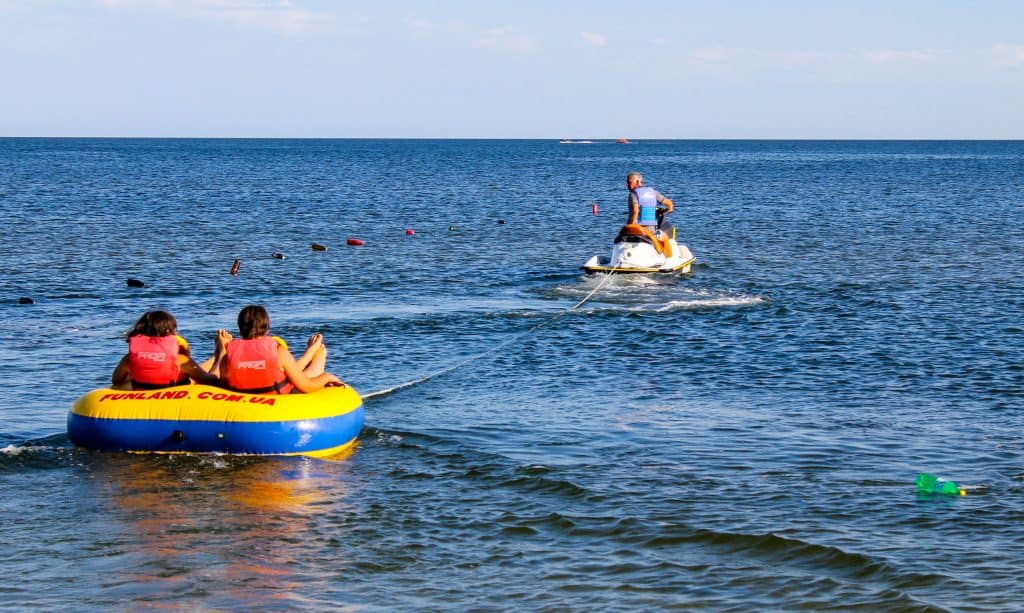 Registering Your PWC
Georgia Registration Fees
| | |
| --- | --- |
| Boats more than 16 feet in length | $35.00 |
| Boats 16 feet to 26 feet in length | $70.00 |
| Boats 26 feet to 40 feet in length | $140.00 |
| Boats 40 foot and over in length | $210.00 |
| Duplicate Registration | $11.00 |
| Marina Toilet Certificate with boat registration | $5.00 |
| Standalone Marine Toilet Certificate | $15.00 |
| Late fee for renewal of a lapsed registration (same owner/ no transfer) | $10.00 |
Documents you need in order to support your boating registration:
Registration number
Hull identification number
Length
Make
Year
Construction material
Numbers and Stickers
Once you receive your registration number and the validation stickers you must display these items in the following ways:
They cannot be any other numbers shown on the bow of your vessel
The letters have to be separated from the numbers with space or hyphen
Each number has to be painted, applied onto your vessel as a decal, or place to be shown on both sides of the bow
The numbers must be read from left to right on both sides
Each number must be in block letters and three inches high
The color of your numbers must also be in contrast with the background of your vessel
Hull Identification Number
A Hull Identification Number (HIN) is a 12-digit number that is assigned by the manufacturer to vessels built after 1972. They help be able to determine the difference between multiple vessels.
In case your vessel is stolen you should write down your HIN number and put it somewhere safe.
The Basics
Personal Watercraft Rules and Regulations
You cannot operate a personal watercraft vehicle within 500 feet of a designated swim area
Reckless operation of a PWC is not allowed. Example of this:

Jumping a wake too close to other vessels
Last minute avoidance of collision
Weaving carelessly through vessel traffic
Carrying more passengers on your PWC than is recommended
If you maneuver your PWC in such a way that it can cause unreasonable harm to you or your passengers

It is illegal to operate a personal watercraft vehicle between the hours of sunset and sunrise especially when your vision is a bit restricted
You cannot remove any backfire flame arrestor or ventilator if it is installed by your manufacturer
You must have a whistle or horn on board your PWC that is U.S. Coast Guard approved
The safety ignition switch must be fully functional and have a lanyard attached to it ensure it does not get lost or misplaced
Each person on the PWC must wear a U.S. Coast Guard approved type 1,2, or 3 personal flotation device
Reckless Operation of a Vessel
Failure to Regulate Your Speed
When you operate your vessel at a faster speed than recommended you are putting those around you and yourself at risk for getting hurt. Especially during vessel traffic, poor weather conditions, and closeness to shore you will need to follow the speed regulations.
Examples of this are:
Operating your vessel at extreme speed in the close vicinity of another vessel, PWCs, or dangerous waters
Operating at a greater speed than "slow, no wake speed" that is posted in a "no wake" zone
Going faster than the speed limit posted near the body of water you are operating on
Going at a speed that can be harmful to your vessel
Improper Distance Between Others
If you are operating your vessel faster than 5 mph while operating within 100 feet of the shore, dock, pier, raft, float, or any anchored or moored vessel you are operating your vessel improperly and putting others around you at risk.
Riding on the Bow, Deck or Gunwale of a Vessel
Riding on anything that is not equipped with fixed seating can lead to the potential of falling overboard. Do not allow your passengers or yourself to sit on seat backs, transom, gunwale, seats on raised decks or a bow.
Reckless Operation Specifics
This is when you weave traffic, swerve last minute to avoid a head-on collision with another vessel, or overload your vessel beyond the capacity it states on the plate.
Unsafe Conditions
Not having enough personal flotation devices, fire extinguishers, backfire flame arrestors, ventilation systems, or navigational lights are putting yourself and others abroad your vessel at risk.
You also put yourself and others in danger when you overload or overpower your boat, or when if you are operating the vehicle while intoxicated.
Alcohol and Drugs
The state of Georgia has a zero tolerance policy for drugs and alcohol. Their boating laws state the following:
It is against the law to be under the age of 21 and operate a PWC if your blood alcohol concentration is 0.02% or more
Anyone over the age of 21 cannot operate a PWC if their blood alcohol concentration is 0.08% or greater, or if drugs are detected they are also prohibited from operating a PWC
If you are found guilty of either you can be punished with fines up to $1,000 and you can go to prison for up to one year
Required Equipment
Personal Flotation Devices
| | | |
| --- | --- | --- |
| Type 1 | Offshore Life Jackets | This vest can turn an unconscious person in the water to face up in the water. It was made for rough waters and for situations where rescue might take a long time. |
| Type 2 | Near-Shore Vests | This vest is fit for calmer waters and faster rescues. If you were to wear this while unconscious it may not be able to turn your face up in the water. |
| Type 3 | Flotation Aids | This vest can also be a full-sleeved jacket and it is great for calm waters and fast rescues. This will definitely not turn your face up in rough waters. This is generally worn for water sports. |
| Type 4 | Throw able Devices | This type of flotation device is a cushion or ring buoys and are typically used to throw at someone in trouble. They are not made to last for long hours in the waters, or non-swimmers, or the unconscious. |
| Type 5 | Special-Use Devices | This type of flotation device was made for activities like kayaking, water-skiing These typically look like white water vests, deck suits, and personal flotation device hybrids. |
Personal Flotation Device Requirements
Type 4 personal flotation devices that are approved by the U.S. Coast Guard must be on board a vessel that is 16 feet or longer and must be easily accessible for emergency use
Vessels have to have one of the 5 personal flotation devices and they also must be wearable and a proper size so that anyone can wear it
Any person that is on board a PWC must wear a PFD that is approved by the U.S. Coast Guard
All PDFs have to be in a serviceable condition and easily accessible
Fire Extinguishers
You can classify your fire extinguisher by letter and number symbol. The number helps you decipher the size of the extinguishers, and the letter indicates the type of fire that is extinguished as well.
Type A Fires
these type of fires are combustible solids such as wood
Type B Fires
these types of fires are flammable liquids like gasoline or oil
Type C Fires
this type of fire is mainly electrical fires
All vessels are legally required to have a Type B fire extinguishers on board your vessel in case of any extreme or dangerous situations occurring.
Your fire extinguisher should be placed somewhere easily accessible in the case of a situation where it needs to be used immediately.
Enforcement
The Conservation Rangers of the Georgia Department of Natural Resources, though peace officers are also able to enforce the law. These officers are authorized to:
Stop and board your vessel to see if it complies to the Georgia Boat Safety Act
They can arrest anyone who may is violating the Georgia Boat Safety Act and issue a citation for the violation
They can put out any warrant or search warrant for violations of the Georgia Boat Safety Act
Enter any land, water or vessel in the performance of their duty