There is more than one way to drill a hole in the ice when you go ice fishing. You might have considered a power auger, but do you really need an engine, requiring fuel and regular maintenance, for such a simple task? Why not try a manual ice fishing auger? They require practically no maintenance, they're lightweight, and they're easy to use.
To make it simple for you to choose an ice auger, here are the best ones you can find, along with which one I'd pick.
RAZR Hand Ice Auger
The RAZR is a manual auger that will cut an 8-inch hole. That's fairly big. When it comes to bigger diameters, you will be able to bring to the surface some huge fish if you can find them, but drilling the hole is more work. More work per hole means you will get tired easily if you end up drilling a dozen holes. But it's not like drilling a dozen holes is a requirement. So, it's a choice you will have to make based on what your plan is.
The handle grip is decently comfy. It's nothing you'll want to write home about, but it also shouldn't give you any pain as you grip it and drill many holes.
You can adjust the length at which the handle extends. This could be useful if you want to get the most effective angle based on your height. If you're shorter, you might set the auger to a shorter length, and the opposite goes for a taller person.
Now, the handle of this auger actually appears to be slightly less offset than most others. This shouldn't make too big of a difference since it is just a slight difference, but the leverage this auger gives might differ a bit from others.
Speaking of the handle, if you ever need to remove it for the sake of transportation or storage, doing so is easy. Just unscrew the bolt that attaches the handle to the drill.
The blades are stainless steel curved blades. They are definitely sharp enough to cut through the ice quickly. Naturally, when the blades become dull, they can be replaced.
A protective cover is included. This will protect the blades from early wear and will also help keep you safe from harm.
Operating this auger is the same as pretty much any manual auger. You stick the sharp part in the ice, grab the handle, and rotate it, causing the drill to rotate.
The RAZR auger is a good buy. To make things really easy, it's available on Amazon.
Check out the good deals available there on the RAZR auger.
Eskimo Hand Auger
This is one of the best values you will find for a manual hand auger.
You can choose between slightly different diameters when ordering: 7-inch or 8-inch. The difference between the two is not huge, but an 8-inch, while better in the event you find an especially large fish, will take a bit more effort to use. The additional work can add up noticeably if you're drilling a lot of holes, so make sure you can handle it.
The auger uses dual-flat stainless steel blades. They're designed to last a long time. They're nice and sharp to make cutting through the ice a quick and painless process. As usual, you can replace them when they get too dull.
A blade protector is included. It will help the blades last longer, and it makes having the auger around safer for everyone, too.
An aspect of the design intended to increase durability is the "cross-bolt takedown system," which prevents over-tightening when drilling. Anything designed to make tools last longer is certainly welcome.
Not only is there a grip on this auger's handle, but there is also a pommel knob which you can also grip. This allows you to have more stability and comfort when drilling. With most augers, there's just the grip in the center of the top portion and not much to grab onto on top. But with this auger, one hand can rotate the drill, while the other keeps it totally stable with more comfort than usual. It just makes drilling easier.
If you ever need to take the handle and drill apart, you can easily do so. This is good for times when you need to save space, like when traveling, or finding a place in storage for this auger.
The company who makes this auger, Eskimo, makes a lot of ice fishing products, and they are usually of good quality. This auger is no different. And with a very affordable price tag, it's one of the best augers you can find. It's up for sale on Amazon.
See the Eskimo Hand Auger and the great deals on it now.
Nils USA High-Velocity Hand Auger
This auger is long. With the handle included, it's 4.75 feet long, to be exact. You can cut some seriously thick ice with this auger. I don't know where exactly ice this thick is found, but this is the auger for it. You could cut through an iceberg with this thing. Not really, but the point is, it's long.
There's the drill section, but then there's a section of straight pole before you get to the handle. So, yes, this is a large auger.
The handle does fold down, which makes it a bit easier to store and transport than if it couldn't. Also, the handle can be easily removed, but folding it is just going to be quicker.
You will find it wonderfully easy to cut through the ice with this auger. You'll be making holes with impressive speed. Many customers have left reviews singing praises about how quick and easy it is to drill holes with this auger.
This model has a 6-inch blade. There are other size variations available. 6 inches is a great size for most fishing, so I wouldn't worry too much about that.
The blade cutting head is chromium. It has tightly wound grooves that make it easy to remove ice chips.
A blade cover is included to ensure maximum durability for the blades, and for safety.
The handle of this auger looks a bit small, but apparently, it's enough to get the job done. There's also a nice grip on the top of the handle, which is far from a universal feature in ice augers. Having the two spots to grip makes for a sturdy hold when you're drilling. It'll help you drill through thick ice as quickly as possible.
This is one of the best and quickest ice augers you can find. Because of that, it's significantly pricier than most other augers. But if you're serious about ice fishing and you want to drill a lot of holes quickly or cut through extremely thick ice, this is likely worth a buy.
Check it out at Cabelas.com.
Strikemaster Mora Hand Auger
Personally, I like the fact that this auger is powder blue. It's a nice color. Whether that appeals to you or not is just personal taste, and obviously, it doesn't affect the auger's ability to drill holes, so let's move on to the real issues.
You'll be drilling 6-inch holes with this auger. While not the biggest, 6 inches is a nice middle ground when it comes to the choice between catching big fish and having it be easy to drill holes.
With a soft, rubber material, the handle on this auger is a bit more comfortable than most. This is not a huge detail, but it is nice. If you are going to drill a lot of holes, this should improve your comfort level.
Another not very significant detail is that the paint is powder coated to reduce ice build-up. I don't see this being a big problem one way or the other, but it's definitely a good thing to have less ice building up on the paint.
The blades are made of high-alloy carbon steel. They should last a good while, and they can be replaced when dull.
A blade cover is included. You may have noticed by now that I find these to be an almost essential thing to include. Use the cover to keep your blades from getting worn out prematurely. It'll help keep everyone safe, too.
To make storing and transporting this auger easier, you can take it apart into two pieces.
The handle is also adjustable. Depending on your height, you may choose to adjust how far the handle extends so that you can use this auger at the optimal angle.
Overall, this is a pretty solid manual ice auger. It's one of the more popular ones out there, and it sells for a reasonable price. You'll be able to cut lots of holes and catch great fish in no time. And you can find this auger on Amazon.
See a ton of customer reviews on the Strikemaster Mora there. The Mora is available for a great price, and free shipping is offered too!
ThunderBay Blazer Ultra-light 6 Inch Hand Auger
Now, this is a unique auger. It's designed to be both lighter than others, and more durable. This is done through a nylon composite blade mounting bed. There aren't any other augers on this list that have a design quite like that.
This design choice greatly reduces blade breakage. No more will you have to deal with the frustration of being unable to finish digging holes because a blade suddenly snapped. The blades should simply last longer, too.
The blades that come with the auger are steel and very sharp. They'll slice right through the ice. Nice.
The only concern I have is that it is not stated anywhere whether a blade cover is included. However, other ThunderBay augers do include blade covers, so it is most likely that this one does too. It is unfortunate that this detail was omitted from the product description.
That handle grip is not going to be the most comfortable. It's just not made of a very soft material. This is never the biggest issue when it comes to these augers, but more comfort is always better than less comfort, and this auger happens to feature less comfort.
The handle is adjustable, so you can account for the heights of different users that way, or you can adjust it if you just have a preference for a particular height.
Also, you can just take off the handle completely if you need to. This is convenient for storage and transportation.
When it comes to hole size, you will cut 6-inch holes with this auger. This is a good size that is easy to cut. It's not too small, and not too big. There are some fish that will be too big for it, though.
Overall, I certainly recommend this auger. It's different from most, which I definitely respect. ThunderBay is a brand that makes a lot of ice fishing-focused products, and they are well-made. With this auger, you'll have a reliable and easy-to-use tool for digging many holes for ice fishing. And it's available on Amazon, for a very nice price.
See this great deal on the ThunderBay Blazer Ultra-light now!
StrikeMaster Lazer Hand Auger
Coming in all back, the StrikeMaster looks extremely cool. You have to give it to StrikeMaster: they make attractive ice augers. Now, aesthetic really isn't that important when deciding what auger to buy, but certain people prefer things to look nicer, and they'll appreciate these augers.
The auger has chrome-alloy stainless steel blades. You'll find them sharp and durable. This auger will cut through ice amazingly quickly, as long as you use it properly.
The cushioned handle on this auger is definitely one of the most comfortable ones you can get. It's a small thing, but it increases my overall enjoyment of the product and just makes me want to dig more holes. This auger doesn't have a pommel knob on top, but just a normal little round knob. That's not a big drawback, but I do prefer the pommel knobs.
The handle is adjustable. That way, people of different heights can drill holes with the auger sitting at an optimal height for them.
You can also take the handle out entirely, which you might want to do for the sake of transportation or storage. Needless to say, you can't really use it without a handle.
The paint on the auger is powder-coated to reduce ice build-up. This really is not a very significant feature, but you might find it useful.
A blade cover is included, meaning this auger passes that all-important test. You just don't want your blades getting worn down while sitting in the garage, and the blade cover helps prevent that.
As for the question of size, you can order the auger in several sizes. The smallest available is 4 inches, and you can get it in sizes increasing by 1 inch up to 8 inches.
That gives you the freedom to get an auger best suited for your needs. If you want to drill a ridiculous number of holes (better check local regulations before doing so) and catch small fish, the 4-inch could be great. If you're going for bigger fish, drill bigger holes by getting a 7 or 8-inch version. Yes, that means greater effort per hole, but with this strong auger, that shouldn't be a problem.
I'm a big fan of this auger. It does its job quickly, it looks really cool, and it's quite affordable. The handles are even comfortable. You can order it from the StrikeMaster website.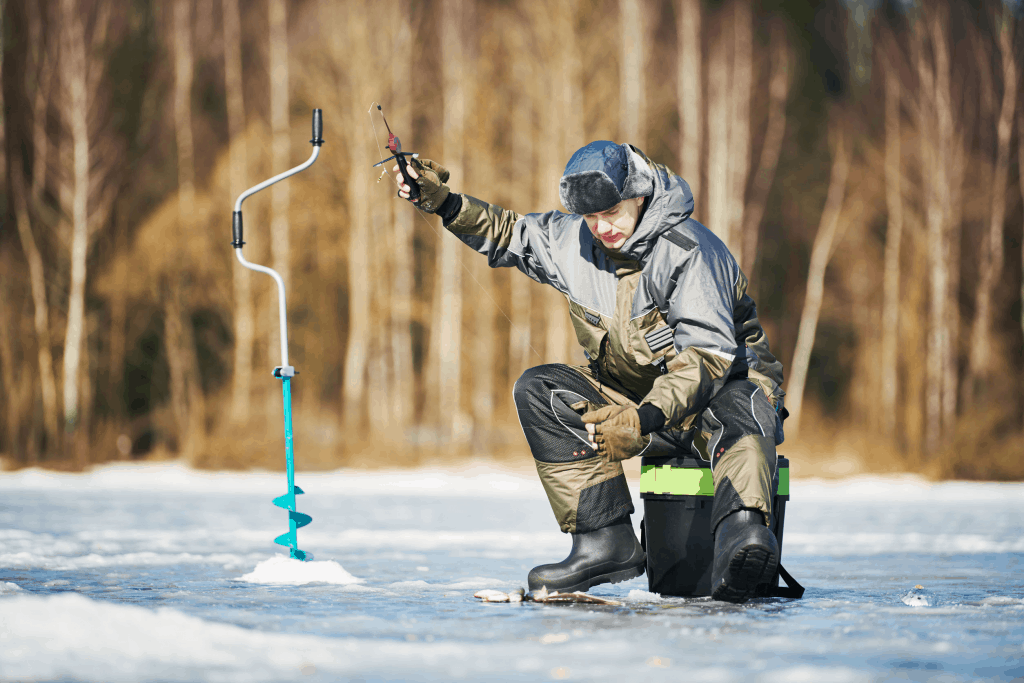 Nero Hand Auger
This auger is a bit different from most because it's exceptionally small and light.
The fully extended handle shown in photos of this auger makes it look pretty different from other augers. There is the curved part where you actually turn the handle, but below that is a very long straight part. So, it looks quite different.
This handle is foldable, though, so if you are worried about it taking up too much space, that certainly helps. Transportation will be no problem.
Of course, you can even remove the handles if you really need to. This can help when you're traveling or just trying to store the auger compactly.
Now, since this auger is so small, you might assume that your effectiveness against the ice will be lessened. However, the handle telescopes to the length of a normal auger, so you can get through the ice at a perfectly satisfactory speed. So, you really get a lot of flexibility with this auger.
Because the handle can extend so far, you shouldn't have trouble with thick ice either, even though the auger is so small.
And of course, the handle adjusts to different heights. Whatever height will get you the best leverage, based on your height, you can adjust the auger to work there.
One thing you can also do with this one is to attach it to your power drill. You can do that with a lot of augers, but this one does come with an adapter, which definitely simplifies the process. Doing this just means less work for you. It's almost like having a power auger but without the need for a gas engine.
The actual auger part is blue, and since I mentioned earlier how I liked that the Mora was blue, I felt the need to do that again here. The Mora just looks much cooler since it doesn't have the weird handle design. But once again, aesthetics are not that important here.
The Nero has stainless steel blades. They're nice and sharp and will cut through the ice very quickly. A blade cover is included to keep the blades preserved. Replacement blades aren't exactly dirt cheap, so you want to keep the included ones in good shape as long as you can.
We are looking at a version of this auger that cuts 7-inch holes here. This is a fairly big size, but not overly big, so you shouldn't have any trouble at all cutting right through the ice. And you'll be able to reel in some large fish.
This is another excellent option for a manual ice auger. It's slightly different from most out there but should work just as well. And getting your hands on it is easy since it's available on Amazon.
See customer reviews for the Nero Hand Auger there, plus get free shipping when you order it.
Cabela's Hand Ice Auger
This is a pretty straightforward auger. The downside of it is that it's made by the store Cabela's, which just means you don't have many options in where to find it. Of course, you can order it from their online store. Otherwise, you might find it secondhand from other sites.
This auger's blades are made of stainless steel. They will be sharp enough to handle any ice. A blade cover is included. You should use it so that your blades don't become dull quicker than they need to.
The grip on the handle is soft rubber, so it's fairly comfortable. On top is a knob covered in the same material. While I prefer pommel knobs, the normal round knob is fine too. It will help you drill effectively.
The handle extends an additional 6 inches. There are three heights you can set it to. This is great because you can adjust the height to whatever will work best for you. A one-size-fits-all approach would be far less convenient.
The paint is powder-coated, so that will prevent ice from accumulating on the auger. This is a small detail, but it's nice to have.
The auger is quite light, so transporting it will be easy. And as usual, the handle can be detached from the auger, making it easy to stow this product away anywhere you need.
When ordering, you can choose either a 6-inch or 8-inch size. While smaller holes are left out, these are some really good options. The 6-inch is easier to use, while the 8-inch will let you catch bigger fish.
Overall, this is a good auger that seems extremely similar to the StrikeMaster Mora. There really aren't many differences between the two.
A great reason to get this auger is that it's one of the cheapest out there. It will be a great tool for all your ice fishing adventures. You can check it out at Cabelas.com.
Which One I'd Pick
My personal pick out of all these augers is the Eskimo Ice Auger because it provides a quick and reliable way to cut ice at an exceptionally low price.
A lot of these augers are so similar that it is rather difficult to choose between them. They tend to have the same basic design. They are often made from the same materials. So, personally, I started looking for what would be the best deal.
The Eskimo's construction is solid and designed to last. I'm a big fan of the handle design because it features a pommel knob on top, which is just slightly easier to hold than the knobs that most augers feature. With its low price combined with all that, this auger is the one that makes the most sense to me.
In the same league as that auger is the StrikeMaster Mora. The Mora seems to be slightly higher quality than the Eskimo, but it is quite a bit more expensive on Amazon. Now if the cost is not an issue for you, then go for it. However, if the cost is not an issue, then there are even better ones you should consider.
The StrikeMaster Lazer is better than the Mora and I was quite impressed by it. If you are still somewhat price conscious but willing to spend a hundred bucks, then I believe the Lazer is the best one you could get in that range.
In a similar price range is the ThunderBay Blazer. It's light, and it's more durable than most, but it also seems to be a bit less powerful, so that means more effort is needed from you.
Meanwhile, in a price range that exceeds any of these other augers by a pretty notable margin is the Nils USA auger. If you don't mind spending almost $200, then this seems to be the most powerful manual auger you can find. It's certainly bigger than others, but you can most likely find room for it.
The other augers on this list are not particularly exceptional, but they are all good options. If you find a reason why one of them particularly suits your needs, you should go for it.
Conclusion
As you can see from this list, manual augers are not to be ignored. Sure, power augers may be quicker, but is it worth the cost of the extra weight and all the time and money you spend dealing with their engines? That's not even mentioning just the increased cost of simply buying them compared to manual augers.
Manual ice augers are excellent ways to dig holes for ice fishing. Hopefully, this list has helped you find a good one to bring along for all your future trips.