You've just bought your own jet ski. Now what? There are a number of things you will NEED to have on-board to have a fun and safe time on the water.
1. Waterproof Bag
On some jet skis, the waterproof storage on-board can be very limited so it is a good idea to have an extra dry bag you can keep your valuables in. You need to carry quite a few things with you on-board so make sure you have a place where the water will not touch your valuables.
A waterproof bag can be used for things like:
Cellphone
Wallet
Registration
Insurance papers
Towel
Keys
Screwdriver/pliers
Flashlight
Sunscreen
Here are some popular options for a waterproof bag:
Earth Pak-Waterproof Dry Bag $17-$21 on Amazon
The Earth Pak is the waterproof bag I would recommend. They stay in great shape for long periods of time and they have a waterproof phone case that comes with the bag: See it here on Amazon
Marchway Floating Waterproof Dry Bag $17-$20 on Amazon
Buhbo Supply82 Waterproof Dry Bag $20-$25 on Amazon
2. Jet Ski Rack
Where are you supposed to put your cooler and skis? A jet ski rack will keep you from having to strap things up. This gives you more room for bigger items on your jet ski.
If you take your jet ski out to fish, this can hold your fishing gear with ease. These are more expensive, but if you have a cheaper jet ski that does not have a lot of storage space, a rack will be a great investment.
Here are two options on Amazon:
Jet Ski Fishing Rack-PAC-RAC $200-220 on Amazon
Jet Ski Fishing Rod Rack & Cooler Holder Combo (Mill Finish) $350-$377 on Amazon
This is the rack I would recommend because it is a cheaper option, with 100% aluminum build and fits most cooler models: See it here on Amazon
3. Water Cooler
In order to be prepared for a jet ski trip on the water, you need to pack enough food and water to feed everyone for the whole day. The only way the food will last is if you have a cooler that will keep your ice frozen.
When it comes to getting a cooler for your jet ski I would recommend one that is flexible and not a hard cooler. If you do have a rack on your jet ski you can have a hard one, but if you do not, you will need to get a cooler that will fit in the storage space onboard.
Here are a few smart cooler options:
CleverMade SnapBasket Soft-Sided Collapsible Cooler $30-$36 on Amazon
This is the cooler I would recommend if you are going to put your cooler in the storage onboard you jet ski because you can squish it into the compartment: See on Amazon
YETI Roadie 20 Cooler $200-$245 on Amazon
Yeti coolers are very sturdy and keep the ice frozen all day even in the sun. If you have a rack, I would recommend a YETI cooler, yes they may be more expensive than the cooler you have in your garage, but this will truly keep your beverages and lunch cold all day long. YETI has a lot of different size options, so depending on how big your crew is, you can decide which cooler size is best: See on Amazon
4. Life Jackets
If you are on the water, you are required by law to have a life jacket on. Not only is it the law, but these also save many lives every year and could end up saving your child's, or even yours.
You will never know when an emergency will happen so it is important to be prepared before you even get in the water. If someone gets hurt when falling off of the jet ski they should have a life jacket on to keep their head above water.
It is important that you have a variety of sizes of life jackets on board just in case you take a guest on your jet ski. Having the right size is vital for your safety; too big and you will slip out.
Here are some of the most popular life jackets:
O'Neill Men's Superlite USCG Life Vest $35-$75 on Amazon
I would recommend getting O'Neill life vests because they are so buoyant you won't even have to kick to stay above water. These vests are also super comfortable and squishy and not to mention stylish: See on Amazon
Stearns Adult Classic Series Vest $23-$55 on Amazon
Onyx General Purpose Boating Vest $15-$50 on Amazon
O'Brien Impulse Neo Life Vest $55-$66 on Amazon
5. Waterproof Speakers
Wearing headphones while on your jet ski is not a good idea. If you are driving you need to be aware of all of your surroundings with your eyes and ears. If you are on board, you will need to listen to the drivers words in case there is an emergency.
A waterproof speaker is an answer to these problems and everyone can enjoy the tunes along the ride.
Many jet skis do not have built-in stereo systems so here is a list of great waterproof speakers:
APIE Portable Wireless Outdoor Bluetooth Speaker $30-$40 on Amazon
OontZ Angle 3 Ultra: Portable Bluetooth Speaker $40-$50
This speaker is a great option for a PWC and the battery lasts up to 20 hours on a single charge: See on Amazon
AOMAIS Sport II+ Bluetooth Speakers $35-$42 on Amazon
This speaker has amazing sound and the battery lasts up to 22 hours: See on Amazon
6. Waterproof Phone Case
Who doesn't want to take pictures or videos when out on the water? If you do not have a GoPro, you can always buy a waterproof phone case and snap some pics with your phone. Phones these days are really expensive and even though they say they are waterproof, it is a smart idea to purchase a protection case.
A universal waterproof case is the best waterproof option for any phone:
Universal Waterproof Case, JOTO CellPhone Dry Bag Pouch $5-$7 on Amazon
This case works with all iPhone's and Samsung phones. It is a cheap and reliable option: See on Amazon
Universal Waterproof Case- Ansot IPX8 Waterproof Phone Pouch- Cellphone Dry Bag $8-$10 on Amazon
With both of these cases, you can use the touch screen through the case cover, but not your fingerprint. It is easiest to take pictures by pressing the volume down button through the case when underwater.
7. Jet Ski Anchor
So you're out on the water and you want to hang out in a cove, go fishing, or swim to cool off. Just drop an anchor down and there will be no problems. If someone falls of and you need to help them, you will also need an anchor. This accessory is essential to have and here are some simple small options:
Complete Grapnel Anchor System $25-$32 on Amazon
This is the most recommended anchor because it is so small but powerful enough to keep your jet ski in one place. This will fit under your seat easily and comes with a 25-foot marine-grade rope and in a nylon padded storage case for extra protection: See on Amazon
Best Marine & Outdoors Folding Grapnel Boat Anchors $33-$44 on Amazon
If you have a larger jet ski that needs more weight to stay put, this is a great anchor for you. This anchor is resistant to rust and has a 40 feet long rope for a stronger hold.
8. Jet Ski Cover
Just like keeping your car clean is important, so is your jet ski. The last thing you want is to find your jet ski covered in bird poop when you come back to the dock. To avoid this, use a jet ski cover! They are cheap and are the best way to keep your jet ski clean.
Once you are done using your jet ski for the day, it is vital that you cover it to protect it from the elements. When driving your jet ski back to storage, there will be winds, rocks, dirt, etc. and to keep your jet ski safe, put a cover on. Even if you store your PWC indoors, always cover up your jet ski.
The sun can cause your jet ski paint to fade, and it is hard to resell due to fiberglass damage. You do not want water on your jet ski when you are not using it and a cover is the best way to keep anything and everything off of it.
Classic Accessories Stellex Personal Watercraft Cover, Trailerable Jet Ski Cover $60-$150 on Amazon
This is a top seller cover because of the polyester Stellax fabric that protects the jet ski and the elastic cords in the bottom of the hem which secures the cover tightly: See on Amazon
North East Harbor Gray Trailerable PWC Cover $45-$50 on Amazon
This is a cheaper option and has trailering straps for an easy tie down: See on Amazon
9. Impeller Protector
If you are a person who enjoys tow sports, then I would invest in an impeller protector. The tow ropes can damage your PWC's impeller and the impeller can do damage to the rope so it is best to keep them separated. Another thing these do is protect passengers from rope kick-back.
Impeller Protector PWC Shock Tube $14-$16 on Amazon
This is a cheap and sturdy tube that keeps your rope away from the impeller and stops rope kick-back which hurts the passengers. This protector helps the driver see the tow rope easy which is important when towing tubes or skiers: See on Amazon
Sea-Doo New OEM Shock Tube $22-$25 on Amazon
This is Sea-Doo's version of a shock tube and has more durable nylon and stuffed with foam.
10. Solar Battery Charger
Driving your car every day keeps the battery charged and it will be active for years. Jet skis are not driven every day, and the battery loses power faster. This battery problem can be fixed with a solar battery charger.
Solar chargers trickle charge and maintain the power to your battery which will prevent your battery from dying. In order not to damage the battery, you need to stay under 5-watts in the solar charger.
In case your jet ski battery dies on the water, this solar charger will help trickle charge to your battery so you can return to shore. You could also charge your cellphone if it dies while on the water. This gives you more riding time which is all that matters when you're jet skiing.
ALLPOWERS 18V 5W Portable Solar Car Battery Charger Bundle $20-$25 on Amazon
This solar panel works with any Kawasaki, Yamaha, Sea-Doo, Honda, Polaris, and even stand-up jet skis. This charger is weatherproof and works in all daylight conditions which makes it one of the most reliable: See on Amazon
POWOXI 3.5W 12V Solar Trickle Charger $33-$36 on Amazon
This is a more expensive version but is very easy to install and connects to the battery directly with the alligator clips.
11. Jet Ski Ladder
Most jet skis do not come with a re-boarding ladder and it is easy to overlook because jet skis sit low in the water. After falling off it is harder to get up then you may think.
Even if there is a ladder that comes with your jet ski, it may not be long enough for you to step on or may be very uncomfortable on your feet.
Luckily there are many cheap options out there and if you are into tow sports you will need a ladder for the passengers to get back up onto the jet ski.
Hardline Products EZ Riser Boarding Ladder $24-$26 on Amazon
This is a simple two rung nylon rope ladder that has non-slip rungs and can hold up to 300 pounds: See on Amazon
There are other more expensive options, but those are for larger boats, the Hardline ladder is a great cheap option.
12. Telescoping Paddle
You never know when one of these situation could happen to you:
You run out of gas
You suck up rocks
You suck up a rope
Your battery dies
You need something to wave down passing boaters/jet skiers
You need something to extend to someone who is hurt in the water
Well look no further, a paddle is just what you can use in each and every one of these situations. Of course, you do not plan on any of these emergencies happening but if they do, you may need something to help you get back to shore.
Telescoping Paddle with Boat Hook $24-$29 on Amazon
This is a convenient paddle because it compacts down to a small paddle making it easy to store. It does not take up any room and collapses into a small paddle, is reliable, and is cheap: See on Amazon
attwood Emergency Telescoping Paddle $20-$22 on Amazon
This paddle is just another version that has a high impact plastic blade. It also collapses down like the other one.
13. Goggles
Most people wear sunglasses when on a jet ski, but if you are a risky driver that jumps waves then goggles and a helmet are a must for safety. You want to be able to see when driving a jet ski for a lot of reasons and when you ride super crazy fast, water will splash in your face.
Polarized goggles or sunglasses are recommended when in low light and when there is a glare from the sun which happens when on a jet ski.
SeaSpecs Classic Extreme Sports UVA & UVB Sunglasses $33-$36 on Amazon
These goggles are polarized and have a comfortable strap so that you can wear them all day without any pain. These specific glasses have frames that cover your eyes from the sun and keeps the spray out of your eyes: See on Amazon
Supertrip UV400 Protective Motorcycle Sports Sunglasses Safety Ski Goggles $13-$15 on Amazon
These are a cheaper option and are not polarized, but do have 100% UVA protection. You can use these for more than just on the water and they work for both men and women. These are more like sunglasses rather than goggles, but because of the belt strap can easily become goggles.
14. CamelBak Backpack
One of the most important things to keep in mind when on the water all day is staying hydrated. If you do not have room on your jet ski for a cooler and/or cooler rack then another option is a CamelBak backpack.
These are small bags that hold water in them and have a long straw tube that you drink out of. These are very lightweight backpacks but having one on ensures that you get enough water throughout the day.
CamelBak HydroBak Hydration Pack, 50oz $36-$45 on Amazon
This backpack has a breathable air mesh back panel. This ensures that you will not have a hot pack glued to your back. There are zipped up pockets that you can keep your essentials in and this whole backpack weighs about 1 pound: See on Amazon
15. Wet Suit
A wet suit can extend your riding season by a few months. A wet suit can allow the season of riding to start sooner and end later!
Riding in wet clothes gets heavy and annoying, wet suits ensure that you do not hold the water in your clothes. Even in warm tropical areas of the world, there are colder windier days and a wet suit can make it bearable to get out on the water.
If you do not wear wet suit bottoms, there is a chance that you could get hurt. A wet suit bottom will have a better grip on the jet ski seat and you will have less of a chance of falling off.
O'Neill Men's Reactor Back Zip Full Wet suit $100-$170 on Amazon
This is a great option for a full body wet suit for men. It has a super seal neck, Krypto knee pads, and is very cheap: See on Amazon
Seavenger Odyssey Neoprene Wet suit with Stretch Panels in Mens and Womens Sizes $69-$80 on Amazon
These suits are very durable, not too tight, have super-stretch panels in the knee and armpit area making it very easy to move, and are a great price! See on Amazon
O'Neill Men's Epic Back Zip Full Wet suit $105-$220 on Amazon
This suit is extremely soft, flexible, and the seams are triple glued ensuring to keep water out: See on Amazon
Leader Accessories Women's Wet suit Full suit Jumpsuit $50-$60 on Amazon
This is a great option for women. It is designed with wind-resistant smooth skin on the chest, and non-slip knee pads. The material is soft and stretchy and keeps you warm even in cold water: See on Amazon
16. Tow Rope
Having good quality tow rope is a must when towing anything behind your jet ski. When you have more than one person enjoying the PWC, towing is the best way to include everyone. One of the best ways to jet ski is towing someone behind you over the water.
AIRHEAD 4 Rider Tube Rope $20-$26 on Amazon
This is Amazon's choice for tow rope because it can reach as long as 60 feet in length, carries a lot of weight, and does not tangle easy. It as pre-stretched, UV-resistant, with 16-strands, and exceeds the 4,150-pound break strength: See on Amazon
WOW World of Watersports, Tow Ropes, Floating Foam Buoys, Minimum Stretch $15-$20 on Amazon
This rope is 60 feet long, can tow any tube up to two riders, and has a floating foam rope buoy so it is easy to locate in the water. Great price for a great rope: See on Amazon
17. Tow Tube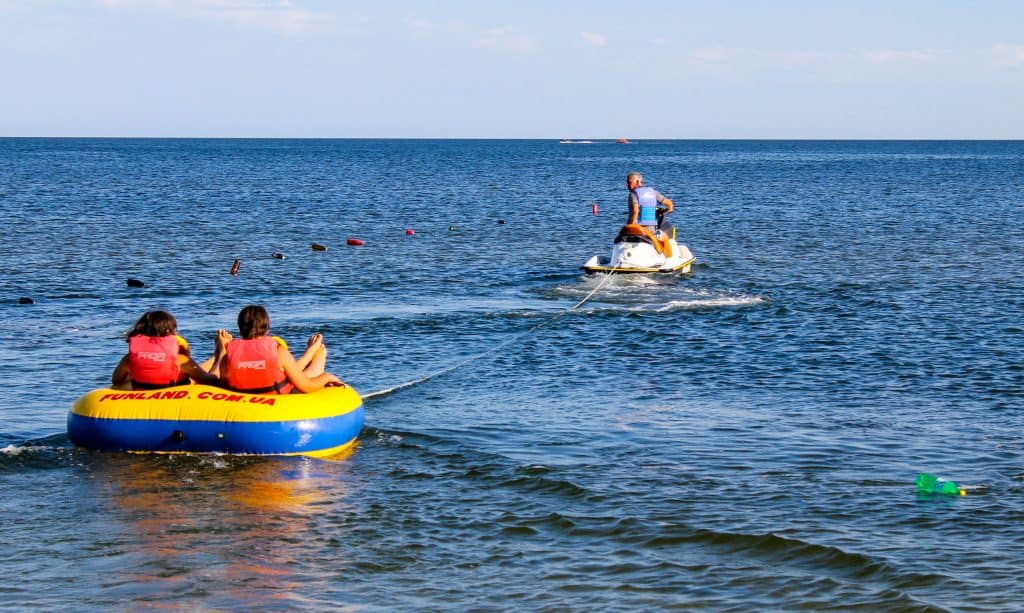 One of the best experiences you can ever have on the water is being towed on a tube. There is nothing else like bouncing along the water being whipped forward and the wind rushing through your hair.
It is important that you get a tube that is right for your family. They make all kinds of tubes for all kinds of families so here is a collection of tubes that work best behind jet skis:
Big Mable Towable Tube $200-$250 on Amazon
This is one of the most popular tubes on the market because it is heavy-duty with cushioned side walls, has multiple handles with knuckle guards, and has EVA foam pads. This tube can fit 2 people and is a good option for those with small children because it has the side walls for protection, but can also be used for adults: See on Amazon
SPORTSTUFF SIDEKICK 2 $200-$235 on Amazon
This is a 2 rider tube in a cockpit style where you sit inside. It is heavy-duty with multiple double webbing foam handles and plenty of stability. This is also great for smaller children and adults: See on Amazon
SPORTSSTUFF Half pipe Rampage $250-$325 on Amazon
This is a great tube for older children and it can fit 2. You can ride on your stomach or your bottom on this tube. There are thick padded handles to ensure comfort and safety: See on Amazon
Rave Razor 2-Rider Towable $75-$100 on Amazon
This is a tube for older kids and adults. You lay on your stomach with your hands in front of your chest holding onto the nylon covered handles. Your legs drag in the water behind you.
You have to be able to hold on tight as there are no side walls to hold you in the tube. This is a cheaper option because it is smaller and is just a round tube you lay on top of. See on Amazon
18. PWC Fender/Bumpers
When you tie your jet ski to the dock it is smart to attach a fender to the hull (side) so that your jet ski does not get scraped or scratched from the waves crashing your PWC against the dock. You only need fenders on the front and rear side on the side that is touching the dock.
PWC Fenders, 2 pack $20-$28 on Amazon
This is Amazon's choice for fenders because it has nylon covers and you attach it onto your jet ski with 2 suctions cups. It is a cheaper option that works great to keep your PWC scratch free: See on Amazon
Sea-Doo OEM BRP Spark Snap-High Visibility Red Fenders $95-$105 on Amazon
We know how popular the Sea-Doo Spark is, so I included this set of fenders because they fit perfectly and protect your jet ski really well: See on Amazon
Extreme Max BoatTector PWC Contour Fender Value Pack $34-$40 on Amazon
This is another option that works on all PWCs' and has a marine-grade tri-laminated cover. These are durable pads that will keep your jet ski off of the dock: See on Amazon
19. Bungee Dock line
Tying off with a bungee dock line is WAY more convenient than using a marine rope. The ability to stretch gives more give on choppy days. The bungee line is easiest to use when wrapping around the cleats. These lines are also more durable than the traditional ropes that wear and tear.
Airhead AHDL-4 Bungee Dockline 4 Feet $9-$10 for one pack on Amazon
This dock line is very popular because it absorbs shock to your jet ski, and it has two foam floats that protect the PWC from being scratched. It is a dock line and fender in one, and is very durable: See on Amazon
Premium PWC Bungee Dock Lines 2-Pack $30-$40 on Amazon
These are premium ropes that are braided with polypropylene. These ropes are heavy-duty and come with a 4-foot and 6-foot rope. These are specifically built for saltwater and freshwater: See on Amazon
20. GoPro Camera
Anyone who has used a GoPro knows that there is no better way to capture the adventure from a first-person perspective. This is not a must but it will give you memories that you will never lose.
These are made for action sports, and jet skiing is about as action-packed as it gets. If you want to document your fun out on the water then the GoPro Hero 7 is for you.
GoPro HERO7 Waterproof Digital Action Camera with Touch Screen 4K HD Video 12MP Photos Live Streaming Stabilization $375-$400 on Amazon
This GoPro corrects shaky footage and makes it smooth. You can get the best photos automatically with Super Photo. You can control it hands-free with voice commands. It also has a live streaming option so you can share your journey with friends along the way: See on Amazon
Not all of us can afford the newest GoPro but another excellent option is the GoPro HERO5 Waterproof Digital Action Camera with 4k Hd Video & 12 MP Photo (Renewed) $165-$180 on Amazon
This GoPro still comes with 4K video and comes in a single, burst, and time-lapse modes. This does not have as many fancy features as the 7, but it is waterproof and still does an amazing job capturing your adventures: See on Amazon
21. Whistle/Air Horn
It is required in most states to have a whistle or air horn within reach when on your PWC. One smart thing to do is attach a whistle to every life jacket so that you have one on you and those with you at all times.
It is always better to be safe than sorry, so I would recommend having an air horn in your storage on-board just in case the whistle is not loud enough.
Whistle with Lanyard $4-$6 on Amazon
This is a great option because it comes with a clip that can connect directly to your life jacket. It does float in the water in case it falls off: See on Amazon